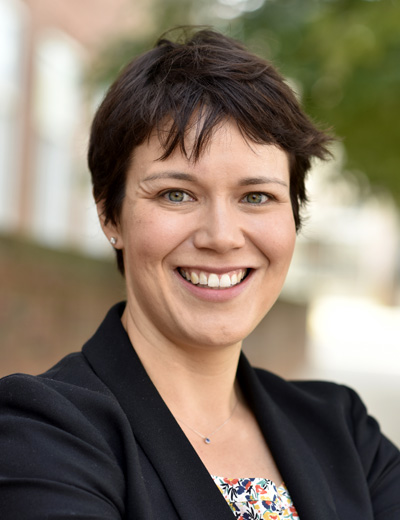 Jones, Anya R.
Professor

Aerospace Engineering
Maryland Robotics Center

3154 Glenn L. Martin Hall

EDUCATION
Ph.D. 2010, University of Cambridge, Cambridge, United Kingdom Aerodynamics Laboratory. Department of Engineering
S.M. 2006, Massachusetts Institute of Technology, Cambridge, MA. Aeronautics and Astronautics
B.S. 2004, Rensselaer Polytechnic Institute, Troy, NY. Aeronautical Engineering and Mechanical Engineering
BACKGROUND
Anya R. Jones is Professor in the Department of Aerospace Engineering at the University of Maryland, College Park. She received her PhD in Aerodynamics from the University of Cambridge, United Kingdom, her S.M. in Aeronautics and Astronautics from MIT, and her B.S. in Aeronautical and Mechanical Engineering from Rensselaer Polytechnic Institute. At UMD, she teaches a graduate course in unsteady aerodynamics and an undergraduate course in incompressible aerodynamics. Her research is focused on the experimental fluid dynamics of unsteady and separated flows. Her current projects focus on the flow physics of large-amplitude gust encounters, separated and reverse flow rotor aerodynamics, and flight through airwakes and other unsteady environments. Prof. Jones has been awarded the AFOSR Young Investigator Award, NSF CAREER Award, and the Presidential Early Career Award for Scientists and Engineers (PECASE). She has been a  Fulbright Scholar at the Technion in Haifa, Israel and an Alexander von Humboldt Research Fellow at TU Braunschweig in Germany. She is currently chair of a NATO Research Technology Organization task group on gust response and unsteady aerodynamics, an associate fellow of AIAA, and a member of the Alfred Gessow Rotorcraft Center.
HONORS AND AWARDS
Humboldt Research Fellowship for Experienced Researchers, Alexander von Humboldt Foundation, Technische Universität Braunschweig, Braunschweig, Germany, 2018
Fulbright Scholar Award, J. William Fulbright Foreign Scholarship Board, Technion-Israel Institute of Technology, Haifa, Israel, 2017--2018
Presidential Early Career Awards for Scientists and Engineers (PECASE), Department of Defense, 2016
National Science Foundation (NSF) Faculty Early Career Development (CAREER) award for "Flow Physics of Aerodynamic Forcing in Unsteady Environments,'" 2016-2021
AIAA National Capital Section Hal Andrews Young Engineer/Scientist of the Year, 2015
U.S. Air Force Summer Faculty Fellowship, Air Force Office of Scientific Research and the American Society for Engineering Education (ASEE), 2012, 2013, 2014
Research and Scholarship Award for "The Aerodynamics of Cross-Flow Wind and Water Turbines,'" UMD Graduate School, 2012
U.S. Air Force Office of Scientific Research (AFOSR) Young Investigator Program (YIP), "Lift Production on Flapping and Rotary Wings at Low Reynolds Numbers," 2012-2015
Technical Team Member of NATO RTO AVT-149 on "Micro Air Vehicle Unsteady Aerodynamics," recipient of the NATO Research and Technology Organization's Scientific Achievement Award, 2011
National Defense Science and Engineering Graduate Fellowship, U.S. Department of Defense, 2004-2007
National Science Foundation Graduate Research Fellowship, National Science Foundation (NSF), 2004-2009
PROFESSIONAL MEMBERSHIPS
Associate Fellow, American Institute of Aeronautics and Astronautics (AIAA)
Member, American Physical Society (APS), Division of Fluid Dynamics (DFD)
Member, American Helicopter Society International (AHS)
Member, American Society of Mechanical Engineers (ASME)
Experimental fluid dynamics and flow modeling with a focus on unsteady aerodynamics, flow separation and control, vortex dynamics, and the physics of aerodynamic forcing.
Jones, A. R., Cetiner, O., and Smith, M. (2022, January). Physics and Modeling of Large Flow Disturbances: Discrete Gust Encounters for Modern Air Vehicles. Annual Review of Fluid Mechanics, 54. pp. 469–493. Online November 1, 2021. doi: 10.1146/annurev-fluid-031621-085520
Jones, A. R. and Cetiner, O. (2021). Unsteady Aerodynamics of Gust Encounters: Introduction to the Virtual Collection. AIAA Journal, 59 (3), pp. 764–764. doi: 10.2514/1.J060379
Jones, A. R. and Cetiner, O. (2021). Overview of Unsteady Aerodynamic Response of Rigid Wings in Gust Encounters. AIAA Journal, 59(2). AIAA Journal, 57(8), pp. 731–736. Online November 19, 2020. doi: 10.2514/1.J059602
Lidard, J. M., Goswami, D., Snyder, D., Sedky, G., Jones, A. R., and Paley, D. A. (2021). Feedback Control and Parameter Estimation for Lift Maximization of a Pitching Airfoil. Journal of Guidance, Control, and Dynamics, 44(3). pp. 587–594. Online January 11, 2021. doi: 10.2514/1.G005441
Biler, H., Sedky, G., Jones, A. R., Saritas, M., and Cetiner, O. (2021). Experimental Comparison of Transverse and Vortex Gust Encounters at Low Reynolds Numbers. AIAA Journal, 59(3), pp. 786–799. Online December 29, 2020. doi: 10.2514/1.J059658
Moriche, M., Sedky, G., Jones, A. R., Flores, O., and García-Villalba, M. (2021). Characterization of Aerodynamic Forces on Wings in Plunge Maneuvers. AIAA Journal, 59(2), pp. 751-762. Online December 1, 2020. doi: 10.2514/1.J059689
Badrya, C., Biler, H., Jones, A. R., and Baeder, J. (2021). The Effect of Gust Width on Flat-Plate Response in Large Transverse Gust at Low Reynolds Number. AIAA Journal, 59(1), pp 49–64. Online December 1, 2020. doi: 10.2514/1.J059678
Jones, A. R. (2020, November). Gust Encounters of Rigid Wings: Taming the Parameter Space (Invited). Physical Review Fluids, 5 (11). Online November 24, 2020. doi: 10.1103/PhysRevFluids.5.110513
Andreu Angulo, I., Babinsky, H., Biler, H., Sedky, G. and Jones, A. R. The Effect of Transverse Gust Velocity Profiles. (2020). AIAA Journal. Online October 31, 2020. doi: 10.2514/1.J059665
Smith, L. and Jones, A. R. (2020). Vortex Formation on a Pitching Aerofoil at High Surging Amplitudes. Journal of Fluid Mechanics, 905(A22). Online October 27, 2020. doi: 10.1017/jfm.2020.741
Mohamed, A., Watkins, S., Ol, M., and Jones, A. R. (2020). Flight- Relevant Gusts: Computation-Derived Guidelines for MAV Ground Test Unsteady Aerodynamics. Journal of Aircraft. Online October 8, 2020. doi: 10.2514/1.C035920
Sedky, G., Lagor, F. D., and Jones, A. R. (2020). Unsteady Aerodynamics of Lift Regulation during a Transverse Gust Encounter. Physical Review Fluids, 5 (7). Online July 1, 2020. doi: 10.1103/PhysRevFluids.5.074701
Sedky, G., Jones, A. R., and Lagor, F. D. (2020). Lift Regulation During Transverse Gust Encounters Using a Modified Goman Khrabrov Model. AIAA Journal, 58(9), pp. 3788–3798. Online April 30, 2020. doi: 10.2514/1.J059127
Smith, L., Jung, Y.-S., Baeder, J., and Jones, A. R. (2019). The Role of Rotary Motion on Vortices in Reverse Flow. Journal of Fluid Mechanics, 880, pp. 723–742. Online October 15, 2019. doi: 10.1017/jfm.2019.728
Biler, H., Badrya, C., and Jones, A. R. (2019). Experimental and Computational Investigation of Transverse Gust Encounters. AIAA Journal, 57 (11), pp. 4608–4622. Online July 25, 2019. doi: 10.2514/1.J057646
Badrya, C., Baeder, J., and Jones, A. R. (2019). Application of the Field Velocity Method to a Large-Amplitude Flat Plate Gust Encounter. AIAA Journal, 57 (8), pp. 3261–3273. Online June 24, 2019. doi: 10.2514/1.J057978
Gomez, D. F., Lagor, F. D., Kirk, P. B., Lind, A., Jones, A. R., and Paley, D. A. (2019). Data-Driven Estimation of the Unsteady Flowfield Near an Actuated Airfoil. Journal of Guidance, Control, and Dynamics, 42 (10), pp. 2279–2287. Online June 24, 2019. doi: 10.2514/1.G004339.
Lefebvre, J. N. and Jones, A. R. (2019). Experimental Investigation of Airfoil Performance in the Wake of a Circular Cylinder. AIAA Journal, 57 (7), pp. 2808–2818. Online June 2, 2019. doi: 10.2514/1.J057468.
Smith, L., Lind, A., and Jones, A. R. (2019). Measurements on a Yawed Rotor Blade Pitching in Reverse Flow. Physical Review Fluids, 4(3). doi: 10.1103/PhysRevFluids.4.034703
Manar, F. and Jones, A. R. (2019). Evaluation of Potential Flow Models for Unsteady Separated Flow with Respect to Experimental Data. Physical Review Fluids, 4(3). doi: 10.1103/PhysRevFluids.4.034702
Mancini, P., Medina, A., and Jones, A. R. (2019). Experimental and Analytical Investigation into Lift Prediction on Large Trailing Edge Flaps. Physics of Fluids, 31(1). doi: 10.1063/1.5063265
Eldredge, J. and Jones, A. R. (2019). Leading Edge Vortices: Mechanics and Modeling. Annual Review of Fluid Mechanics.
Kirk, P. B. and Jones, A. R. (2018). Vortex Formation on Surging Aerofoils with Application to Reverse Flow Modelling. Journal of Fluid Mechanics.
Perrotta, G. and Jones, A. R. (2018). Quasi-Steady Approximation of Forces on a Flat Plate Due to Large-Amplitude Plunging Maneuvers. AIAA Journal.
Stevens, P. R. R. J., Babinsky, H., Manar, F., Mancini, P., Jones, A. R., Nakata, T., Phillips, N., Bomphrey, R. J., Gozukara, A. C., Granlund, K. O., and Ol, M. V. (2017). Experiments and Computations on the Lift of Accelerating Flat Plates at Incidence. AIAA Journal. doi: 10.2514/1.J055323
Manar, F. and Jones, A. R. (2017). Transient Response of a Single Degree-of-Freedom Wing at High Angle of Attack and Low Reynolds Number. AIAA Journal. doi: 10.2514/1.J055708
Perrotta, G. and Jones, A. R. (2017). Unsteady Forcing on a Flat Plate Wing in Large Transverse Gusts. Experiments in Fluids, 58, (101). doi: 10.1007/s00348-017-2385-z
Medina, A., Ol, M., Mancini, P., and Jones, A. R. (2017). Revisiting Conventional Flaps at High Deflection-Rate. AIAA Journal. doi: 10.2514/1.J055754
Mulleners, K., Mancini, P., and Jones, A. R. (2017). Flow Development on a Flat Plate Wing in a Stream-Wise Gust Encounter. AIAA Journal. doi: 10.2514/1.J051609
Medina, A. and Jones, A. R. (2016). Leading-Edge Vortex Burst on a Low Aspect Ratio Rotating Flat Plate. Physical Review Fluids, 1, (4). doi: 10.1103/PhysRevFluids.1.04450
Hodara, J., Lind, A., Jones, A. R., and Smith, M. (2016). Collaborative Investigation of the Aero dynamic Behavior of Airfoils in Reverse Flow. Journal of the American Helicopter Society, 61 (3), pp. 1-15. doi: 10.4050/JAHS.61.032001 21
Lind, A. and Jones, A. R. (2016). Unsteady Aero dynamics of Reverse Flow Dynamic Stall on Oscillating Blade Sections. Physics of Fluids, 28 (7). doi: 10.1063/1.4958334 22.
Lind, A., Smith, L., Milluzzo, J., and Jones, A. R., (2016). Reynolds Number Effects on Rotor Blade Sections in Reverse Flow. Journal of Aircraft, 53,(5), pp. 1248-1260. doi: 10.2514/1.C033556
Lind, A. and Jones, A. R. (2016). Unsteady Airloads on Static Airfoils through High Angles of Attack and in Reverse Flow. Journal of Fluids and Structures, pp. 259-279. doi: 10.1016/j.juidstructs.2016.03.00
Jones, A. R., Medina, A., Spooner, S., and Mulleners, K. (2016). Characterizing a Burst Leading-Edge Vortex on a Rotating Flat Plate Wing. Experiments in Fluids, 57 (4), pp. 1-16. doi: 10.1007/s00348-016-2143-7
Granlund, K., Ol., M., and Jones, A. R. (2016). Streamwise Oscillation of Airfoils into Reverse Flow. AIAA Journal, 54 (5). doi: 10.2514/1.J054674
Mancini, P., Manar, F., Granlund, K., Ol, M., and Jones, A. R. (2015). Unsteady Aerodynamic Characteristics of a Translating Rigid Wing at Low Reynolds Number. Physics of Fluids, 27 (2). doi: 10.1063/1.4936396
Manar, F., Mancini, P., Mayo, D. B., and Jones, A. R. (2015). A Comparison of Rotating and Translating Wings: Force Production and Vortex Characteristics. AIAA Journal, 54 (2), pp. 519-530. doi: 10.2514/1.J054422
Perrotta, G., Glucksman-Glaser, M., and Jones, A. R. (2015). Similarity Parameters for the Characterization of Sediment Mobilization by Unsteady Rotor Wakes. Journal of Aircraft, 52 (6), pp. 2090-2095. doi: 10.2514/1.C033245
Lind, A. H. and Jones, A. R. (2015). Vortex Shedding from Airfoils in Reverse Flow. AIAA Journal, 53 (9), pp. 2621-2633. doi: 10.2514/1.J053764
Beals, N., and Jones, A. R. (2015). Lift Production on a Passively Flexible Rotating Wing. AIAA Journal, 53 (10), pp. 2995-3005. doi: 10.2514/1.J053863
Lind, A. H., Jarugumilli, T., Benedict, M., Lakshminarayan, V. K., Jones, A. R., and Chopra, I. (2014). Flow Field Studies on a Micro Air Vehicle-Scale Cycloidal Rotor in Forward Flight. Experiments in Fluids, 55 (12). doi: 10.1007/s00348-014-1826-1
Lind, A. H., Lefebvre, J., and Jones, A. R. (2014). Time-Averaged Aerodynamics of Sharp and Blunt Trailing Edge Static Airfoils in Reverse Flow. AIAA Journal, 52 (12), pp. 2751-2761. doi: 10.2514/1J052967
Manar, F., Medina, A., and Jones, A. R. (2014). Tip Vortex Structure and Aero dynamic Loading on Rotating Wings in Confined Spaces. Experiments in Fluids, 55 (9), pp. 1-18. doi: 10.1007/s00348-014-1815-4
Schlueter, K., Jones, A. R., Granlund, K., and Ol, M. (2014). Effect of Root Cutout on the Lift Produced by a Rotating Wing. AIAA Journal, 52 (6)14/1.J05282
Kolluru Venkata, S. and Jones, A. R. (2013). Leading Edge Vortex Structure over Multiple Revolutions of a Rotating Wing. AIAA Journal, 50 (4), pp. 1312-1316. doi: 10.2514/1.C03212814/1.J05282
Jones, A. R. and Babinsky, H. (2011). Reynolds Number Effects on Leading Edge Vortex Development on a Waving Wing. Experiments in Fluids, 51 (1), pp. 197-210. doi: 10.1007/s00348-010-1037-14/1.J052823
Jones, A. R., Pitt Ford, C. W., and Babinsky, H. (2011). Three-Dimensional Effects on Sliding and Waving Wings. Journal of Aircraft, 48 (2), pp. 633-644. doi: 10.2514/1.C0311814/1.J05282
Jones, A. R. and Babinsky, H. (2010). Unsteady Lift Generation on Rotating Wings at Low Reynolds Numbers. Journal of Aircraft, 47 (3), pp. 1013-1021. doi: 10.2514/1.4664914/1.J05282
Hileman, J. I., Spakovszky, Z. S., Drela, M., Sargeant, M. A., and Jones, A. (2010). Airframe Design for Silent Fuel-Efficient Aircraft. Journal of Aircraft, 47 (3), pp. 956{969. doi: 10.2514/1.465414/1.J052825
Jones, A. R., Bakhtian, N. M., and Babinsky, H. (2008). Low Reynolds Number Aerodynamics of Leading-Edge Flaps. Journal of Aircraft, 45 (1), pp. 342- 345. doi: 10.2514/1.330014/1.J052821
American Institute of Aeronautics and Astronautics (AIAA)