Women in Aeronautics and Astronautics (WIAA) is a group of both undergraduate and graduate students in the A. James Clark School of Engineering at the University of Maryland. WIAA was formed in the spring of 2015, and is welcome to students of any level from any academic department. Membership is also not limited to just females; students of any gender identity are welcome to join and attend events!
WIAA operates on four main pillars:
Community and Retention - Create an inclusive, interactive community designed to facilitate students through their degree.
Academic and Technical Skills Development - Develop technical skills through a variety of workshops, and provide a community of academic collaboration for members.
Professional Development - Foster professional development through networking events, speakers, and interactions with professionals within the aerospace community.
Outreach and Community Service - Expand the reach of WIAA to other engineering students (particularly undecided engineering), as well as high school students, with various outreach events and/or information sessions.
Contact the WIAA President at wiaaterps@gmail.com if you are interested in attending our events either as a student or a guest lecturer, or if you would like to sponsor WIAA.
 
---
Current Sponsors
2022-2023 SILVER SPONSORS
Lockheed Martin
Northrop Grumman Corporation
2022-2023 BRONZE SPONSORS
Microsoft
Maryland Robotics Center
---
Current WIAA Leadership 2022-2023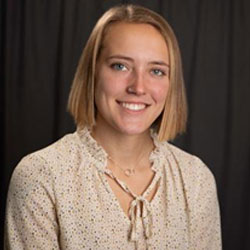 PRESIDENT
Madelyne Rossmann
Madelyne is a senior aerospace engineering and robotics and autonomous systems student from Kenosha, Wisconsin. Her passion for both aerospace and robotics stems from a visit to the Johnson Space Center, where she was exposed for the first time to the wonders of space exploration. Besides serving as WIAA President, Madelyne is also a Teaching Fellow in the Aerospace Engineering Department and a mentor in the AeroCorps program. Additionally, she conducts research under Dr. Hartzell in the Planetary Surfaces and Spacecraft Laboratory. In her freetime, Madelyne is an avid runner and enjoys getting outdoors with her dog, Ollie.
---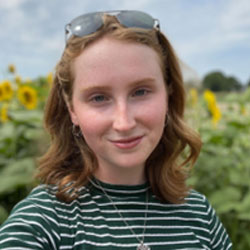 VICE PRESIDENT
AJ Rahr
AJ is a third year aerospace engineering major with a minor in robotics and plans to follow the space track. She has been a member of WIAA since she was a freshman and this will be her third year serving on the executive board, and she credits the organization for her passion for aerospace after attending WIAA Day in high school. She also participates in University Honors and volunteers in the Space Systems Lab. In her free time, AJ enjoys kickboxing and reading.
---
CHAIRS
Madhumita Kumar, Finance Chair
Madhumita is a senior aerospace engineering major, pursuing the space track. Her
interest in aerospace comes from a fascination with space from a young age. She is
passionate about outreach and including more women in STEM, especially in
engineering. In her free time, she enjoys hiking, traveling, and spending time with
friends and family.
---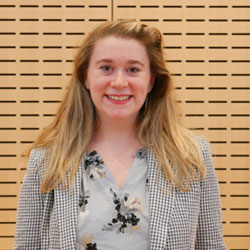 Madelaine Lebetkin, Technical Development Chair
Madelaine Lebetkin is a senior studying Aerospace Engineering with a minor in Global Engineering Leadership. Besides being a board member of the University of Maryland's WIAA and AIAA Student Chapters, Madelaine is a devoted undergraduate researcher of the Balloon Payload Program, acting as the Launch Director, Program Administrator, Payload Project Lead, and Lead Inflation Engineer. She has also worked in the Neutral Buoyancy Research Facility in an effort to build a spacesuit simulator for integrating astronaut cooling systems and Personal Life Support Systems (PLSS), as well as construct a functioning crew seat for different levels of gravity.
---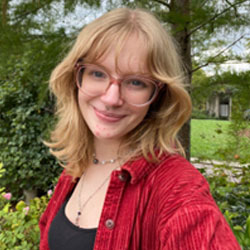 Devin McLenagan, Outreach Chair
Devin is a junior pursuing an undergraduate degree in Aerospace Engineering. She previously worked on the WIAA board as the Community Development Chair. She was inspired to pursue aerospace from a childhood dream of discovering new planetary characteristics and contributing to projects such as the Mars Exploration Rovers. In her spare time, Devin enjoys hiking, reading, and drawing.
---
Sarah Pfau, Public Relations Chair
Sarah is currently a junior undergraduate student with a major in Aerospace Engineering. She spent this past summer interning at the University of Maryland's Space Systems Lab working on Quantum Space's service vehicle project and is excited to continue applying her coursework to research-based projects. In her spare time, Sarah enjoys being involved on campus, both through professional organizations like WIAA and SWE and social organizations such as Maryland's Greek Life program.
---
Ellie Quinn, Community Development Chair
Ellie is a junior undergraduate student studying Aerospace Engineering. She spent this past summer interning at Middle River Aerostructure Systems, one of the leading companies in composite nacelle and thrust reverser manufacturing. Outside of her work with WIAA, Ellie loves to spend her time with friends and outdoors, and is also part of UMD Images Tour Guide organization and the Maryland Irish Dance Club.
---
Lilly Spych, Corporate Relations Chair
Lilly is a junior aerospace engineering major from Newark, Delaware. She first discovered her love for space and astronautics during a trip to the Kennedy Space Center when she was young, and has striven for a career in aerospace ever since. Lilly has worked on projects in the Space Systems Lab's Neutral Buoyancy Tank and UMD SEDS' THEIA project. She is also involved in the Society of Women Engineers and the professional STEM sorority Alpha Omega Epsilon. In her free time, she enjoys drawing, painting, and hiking.
---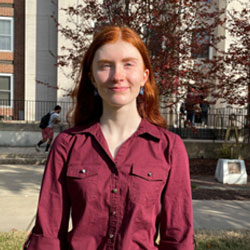 Grace Warznak, Communications Chair
Grace is a senior aerospace engineering major on the space track. She is a member of the Balloon Payload Program where she acts as Lab Director and as a SLAPS payload team member. In her free time, Grace plays piccolo in the Mighty Sound of Maryland marching band, goes hiking around the area, and spends time with her friends.
---
FOLLOW WIAA ON
Top