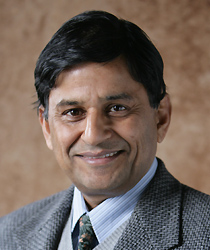 Gupta, Ashwani K.
Distinguished University Professor
Minta Martin Professor of Engineering
Professor, Institute of Physical Science and Technology
Affiliate Professor, Dept . of Aerospace Engineering

Mechanical Engineering
Maryland Energy Innovation Institute
Aerospace Engineering

2159 Glenn L. Martin Hall, Building 088

EDUCATION
Ph.D., 1973, University of Sheffield, UK
D.Sc., 1986, University of Sheffield, UK
D.Sc., 2013, Southampton University, UK
BACKGROUND
Professor Ashwani K. Gupta has been a faculty member in the Mechanical Engineering Department at the University of Maryland, College Park since 1983, following six years at MIT as a member of the research staff in the Energy Laboratory and Department of Chemical Engineering, and three years at Sheffield University as an independent research worker and research fellow in the Department of Chemical Engineering and Fuel Technology.  He has 45+ years of experience in Combustion engineering since his graduation from Southampton University in 1970, and is the author of over 825 technical papers, three books, 18 edited books, and 19 book chapters. In 2023, Gupta was elected to Fellowship of the Royal Academy of Engineering (FREng).  In 2020, he was elected to Honrary Fellowship of the Royal Aeronautical Society (RAeS), UK, the highest professional recognition bestowed by the RAeS.  He is currently Honorary Fellow of American Society of Mechanical Engineers (ASME), and Fellow of American Institute of Aeronautics and Astronautics AIAA), Society of Automotive Engineers (SAE) and the American Association for the Advancement of Science (AAAS), and Member of the European Academy of Sciences and Arts (EASA). In 2022, Gupta was included in the top 2% of the scientists in the world  by Stanford University which includes the researchers who receive the most citations across all academic fields. More about Dr. Gupta on his Wikipedia. 
HONORS AND AWARDS
Top 2% of the Scientists in the world published by Stanford University (2022)
Honoris Causa Doctorate, University of Wisconsin, Milwaukee (2014)
Honoris Causa Doctorate, King Mungkut University of Technology North Bangkok, Bestowed by the Princess of Thailand (2014)
Honoris Causa Doctorate, University of Derby, UK (2015)
Fellow, Royal Academy of Engineering (FREng), UK (2023)
Honorary Member (Fellow) of American Society of Mechanical Engineers (2016)
Honorary Fellow of Royal Aeronautical Society, RAeS U.K (2020).
Fellow of American Institute of Aeronautics and Astronautics (1991), American Society of Mechanical Engineers (2000), Society of Automotive Engineers (2007), and American Association for the Advancement of Science (2016)
Member, European Academy of Science and Arts, EASA (2021)
AIAA Energy Systems Award (1990)
ASME George Westinghouse Gold Medal (1998)
AIAA Propellants and Combustion Award (1999)
ASME James Harry Potter Gold Medal Award (2003)
University of Maryland President Kirwan Research Award (2003)
ASME James N. Landis Medal (2004)
University of Maryland A. James Clark School of Engineering Outstanding Research Award (2006)
ASME Worcester Reed Warner Medal (2008)
Distinguished University Professor (2008)
ASME Holly Medal (2010)
ASME-AIM Percey Nichols Award (2011)
AIAA Air Breathing Propulsion Award (2014)
ASEE Ralph Coats Roe Award (2015)
ASME Honorary Member/Fellow (2016)
AIAA Pendary Aerospace Literature Award (2017)
ASME Sochiro Honda Medal (2018)
ASME Dixy Lee Ray award (2021)
Seven Best Paper Awards by AIAA (in 1987, 1989, 1992, 1994, 2006, 2010 & 2010) and three by ASME (in 1991, 1997 & 2003)
Delivered 90+ Plenary/Keynote/Invited presentations at international conferences and organizations during the past 20 years
PROFESSIONAL MEMBERSHIPS
Ediotr in Chief of Intl. J. Energy for a Clean Environment (IJECE)
Editor in Chief of APEC Youth Scientist Journal
Associate Editor of Journal of Applied Energy
Associate Editor of International Fuel Sprays and Combustion Dynamics
Associate Editor of Journal of Sustainable Energy and Environment
Editor, Energy and Engineering Science Series, CRC Press
Associate Editor, J. Prop. and Power
Chair, Board of Boiler Rules, State of Maryland
Chair, ASME Fuels and Combustion Tech. Division (1998-2000)
Chair of ASME FACT Section, Power Division (2017-present)
Executive Committee Member, ASME Computers and Information in Engineering Division (1999-2000)
Director of Propulsion and Energy, and Member of Board of Directors, AIAA (2006-2012)
Deputy Directr of Energy, AIAA (2000-2007, and 2018-present) 
Oversight Chair, International Conference on Incineration and Thermal Treatment Technologies (IT3)
Swirl flows
Combustion
Sprays
High-temperature air combustion (HiTAC)
Biofuels / fuel reforming
CO2 use for fuels and value-added products
Distributed combustion
Microcombustion
Alternative fuels/ Biofuels
Air pollution
High intensity gas turbine combustion / Green combustion turbine
Nonintrusive diagnostics
Thermal destruction of solid and liquid wastes
Gasification and pyrolysis
Treatment of acid gases and sulfur chemistry
Supercritical and near critical CO2 liquifaction of biomnass to liquid fuels
Waste & Biomass comnversion to value added products using CO2   
Sensors and diagnostics
Internal combustion engines
Fouling and deposition
Laser diagnostics
Hypersonics - non-intrusive flow diagnostics
High Temperature Energy Systems (HiTES), Gasification, Pyrolysis, Colorless Distributed Combustion, Micro-combustion, Bofuels,  Air toxins,  Combustion, Laser Diagnostics, Sulfur recovery from acid gases present in natural gas and oils, High intensity gas turbnie combustuon, CO2 utilization, Supercritical & Near critical liquifaction of low grade feedstocks to liquid biofuels, Near Critical Integrated liquefaction and Extraction (NILE) proces, Waste and biomass conversion to fuels and high value-added products, Biomass char to activated carbon conversion, Swirl flows, Noise emisson and reduction from flames, Precessinf Vortex Cores (PVC) in swirl flows, MHD, and Hydrogen production from hydrocarbons   
2024
2023
2022
2021
2020
2019
2018
2017
2016
2015
2014
2013
2012
2011
Recognition honors Gupta's role as a leading international authority on swirl flows and volume distributed combustion.
UMD program supports future engineers and hypersonic research.
Aerospace Chair Darryll Pines to lead $7.8M/year research project, 20 universities involved.
Other professional society fellows
Society of Automotive Engineers (SAE)
American Association of Arts and Science (AAAS),
Member, European Academy of Arts and Sciences (EASA).
Royal Aeronautical Society (RAeS)
American Society of Mechanical Engineers (ASME)
American Institute of Aeronautics and Astronautics (AIAA)