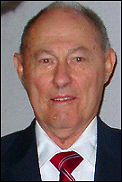 William Bissell was an instrumental member of the Lockheed Martin Aircraft Corporation for almost 39 years. He was an engineer and designer on such projects as Skunkworks, the U-2R, the A-12, the SR-71 and the XST. Bissell also designed and built the JetStar, a 10-passenger personnel transport for the Air Force which was later used as a Presidential plane.
Born in Thomasville, Georgia in 1926, he grew up in Griffin, Georgia and enlisted in the U.S. Air Force, serving two years beginning in 1944. Bissell graduated from the University of Maryland in 1952 with a Bachelor of Science Degree in Aeronautical Engineering. He was hired by Lockheed Martin Aircraft Corporation in Burbank, California upon graduation. In order to learn the Lockheed Design System, Bissell was sent to an introductory school; after finishing, he began work with the T-33 detail group.
William S. Bissell worked with this group until late 1953, when he was transferred to the Preliminary Design Group and was instituted to direct and keep files on individual air planes of all types.
Bissell was assigned to work in the Lockheed Advanced Development Project, known as the "Skunkworks," as a designer in 1954. His first project was the U-2 under Kelly Johnson. When the project began in 1954 and the plane was first flown in 1955. Later, Bissell and his group reengineered the U-2.  This newly reengineered plane, known as the U-2R, was able to carry more fuel and reach a higher altitude than the original. Bissell also designed and built the JetStar, which was a 10-passenger personnel transport for the U.S. Air Force and was later used as a presidential plane.
During 1959 and 1960, Bissell was a wing designer on the A-12, a Mach 3.2 photographic aircraft. He was a designer in the Wing Group for the SR-71 from 1962 to 1964 and they built this plane entirely out of titanium. In 1968, he assisted in designing the forward fuselage of the L-1011 cockpit area, and in 1975 Bissell helped design the wings for the XST (Have Blue) prototype. He was also the Wing Group Engineer for the exterior configuration design of the F-117A.
After almost 39 years at Lockheed, William Bissell retired in 1991, and he and his wife moved to Bigfork, Montana. Bissell passed away on January 11, 2009, in Kalispell, Montana. Bill is survived by his wife of 57 years, Mary Bissell of Bigfork, three sons, seven grandchildren, and three great grandchildren, as well as many other relatives and friends.