Fourney Named ASME Fellow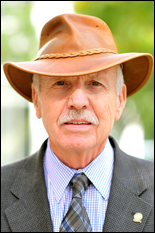 Aerospace Engineering faculty member Associate Dean and Keystone Professor William Fourney named an American Society of Mechanical Engineers (ASME) Fellow.
"Fourney is an outstanding educator, dedicated administrator and a world class researcher who has the time and energy to help in various mechanics and materials community activities," said Arun Shukla (M.S., '78, Ph.D., '81), University of Maryland alumnus and the Simon Ostrach Professor in Mechanical, Industrial and Systems Engineering at the University of Rhode Island.
Fourney—a professor of both aerospace and mechanical engineering—mentored Shukla during his graduate days at Maryland, and the two have continued to discuss and collaborate on research projects over the years.
He has been exclusively teaching freshman and sophomore classes for over the past 15 years, and in 2006, the Clark School selected him as a lead Keystone Professor for its Keystone Program—a program designed to foster exemplary undergraduate teaching skills and commitment to excellence in fundamental engineering courses. In 2014, the Society for Experimental Mechanics (SEM) recently recognized Fourney for his excellence in education, selecting him for the 2014 Frocht Award.
Fourney has published over 250 articles on the results of his research in dynamic fracture and crack arrest, including approximately 50 reports to research sponsors. In addition, he has served as a consultant for Gillett Research Labs, Versar, Allegheny Ballistics Lab, Harry Diamond Labs, Los Alamos National Labs and SAIC while being an active contributing member of numerous professional societies.
Published February 20, 2015