Lagor and Sherman Named 2014 Future Faculty Inductees
The Clark School selected Aerospace Engineering Ph.D. students Frank Lagor and Stephen Sherman as members of the 2014 Future Faculty Program. The goal of this program is to increase the number of highly qualified teachers the Clark School produces for the world's engineering schools and prepare them to achieve career-long success in the academic world as teachers and researchers. Selected students receive a $3,000 travel stipend to present their research at professional conferences.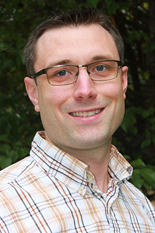 Lagor received his B.S. in Mechanical Engineering from Villanova University in 2006, and his M.S. in Mechanical Engineering and Applied Mechanics from the University of Pennsylvania in 2009. He worked for Lockheed Martin Space Systems Company prior to returning to study for a Ph.D. in control systems. He is currently a graduate research assistant in the University of Maryland Collective Dynamics and Control Laboratory. His research interests center around estimation, navigation and control of robotic systems in complex flow environments.
Sherman received both his B.S. (2011) and M.S. (2014) in Aerospace Engineering from the University of Maryland. In 2013, he received both the National Science Foundation Graduate Research Fellowship and the National Defense Scholarship for Engineering Graduates. His current doctoral research focuses on modeling magnetorheological fluids, which consist of magnetized particles suspended in a carrier fluid, and specifically, the development of a GPU powered fully coupled particle-fluid solver. His research interests include computational fluid dynamics, non-Newtonian fluids and crash safety systems.
Published January 30, 2015