Fourney Selected to Receive 2014 Frocht Award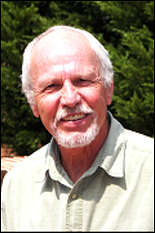 Associate Dean and Keystone Professor of Aerospace and Mechanical Engineering William Fourney has been selected to receive the 2014 M. M. Frocht Award from the Society for Experimental Mechanics (SEM). The Frocht Award recognizes "outstanding achievement as an educator in the field of experimental mechanics," and is presented annually.
Forney's nomination was submitted by faculty in the Department of Mechanical Engineering, but his commitment to education and research is recognized across the Clark School of Engineering.
Professor Hugh Bruck, who organized the award submission, said, "Professor Fourney was nominated based on the numerous contributions he has made to the academic programs in the field of Experimental Mechanics, as well as to the A. James Clark School of Engineering and the Department of Mechanical Engineering. His efforts have had an extraordinary impact on our Department by providing students with an enhanced and customized educational experience in their first two years through the Keystone program. This has prepared them to achieve even greater academic success during their final two years within our Department then before the creation of the program."
Mechanical Engineering Department Chair Dr. Balakumar Balachandran said, "This is a terrific honor for Professor Fourney and the Department, which has enjoyed a long tradition of experimental mechanics. We consider this recognition as a nice tribute to his excellence as an educator in this field."
"This is a great honor and demonstrates the impact that Dr. Fourney has had as an educator."
"This is a great honor and demonstrates the impact that Dr. Fourney has had as an educator," said Clark School Dean and Nariman Farvardin Professor of Aerospace Engineering Darryll Pines.
"Dr. Fourney's selection is a well-deserved public statement from his professional peers of both his technical stature and the high personal regard in which he is held by the experimental mechanics community," said Department of Aerospace Engineering Chair Dr. Norman Wereley.
Professor Fourney, who is also the Associate Dean of Engineering and previously served as the Chair of Aerospace Engineering for 13 years, will receive the Frocht Award on June 4, 2014 during the SEM 2014 Conference and Exposition on Experimental and Applied Mechanics. The conference is scheduled for June 2-5, 2014 in Greenville, S.C.
For more information on Dr. Fourney and his research, visit his faculty profile page.
Published July 1, 2013