Dr. Fourney to Head New Undergraduate Retention Office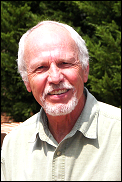 Dr. William Fourney, a past chair of the aerospace department, has been appointed to lead the newly formed Office of Undergraduate Student Retention, Graduation and Career Placement. Dean Pines asked Associate Dean William Fourney to continue his outstanding service by leading this new office. Units that will report to Dr. Fourney include:
• Keystone: The Clark School Academy of Distinguished Professors
• Clark School Co-op and Career Services
• Undergraduate Advising and Academic Support
• and, on a temporary basis, the UMCP chapter of Engineers Without Borders.
Dr. Fourney will transition his responsibilities as Director of Facilities to Dr. Marino diMarzo, chair of the Department of Fire Protection Engineering. This transition will take approximately one year. Dr. diMarzo will then assume all the responsibilities of the Director of Facilities as he continues in his role as department chair.
Published September 28, 2009