Service and Grit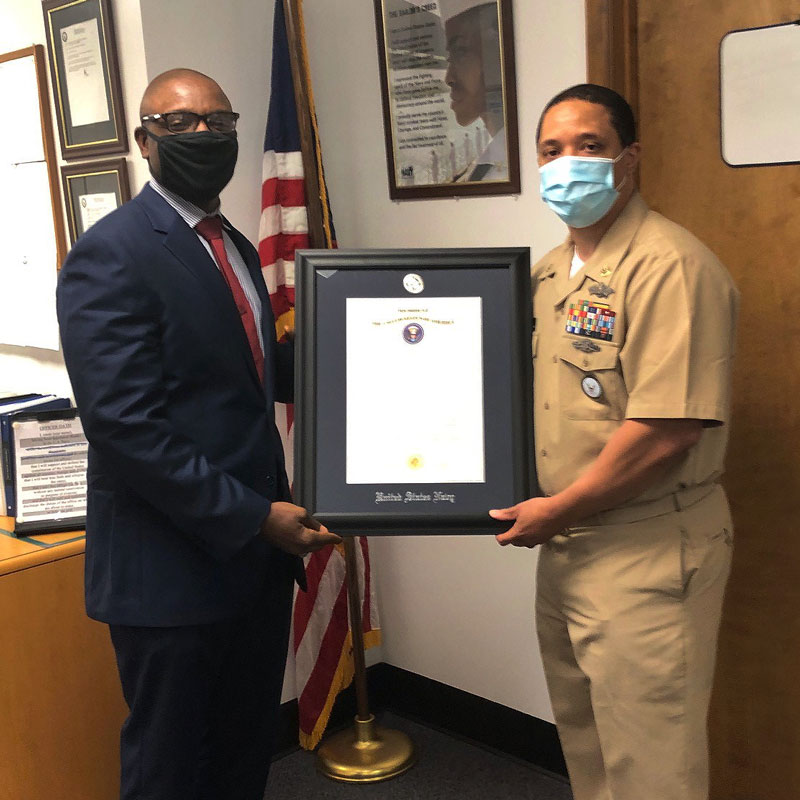 A career in aerospace engineering wasn't the first path University of Maryland aerospace engineering alumnus and U.S. Marine Corps. veteran David Mayo (Ph.D. '14) considered growing up. Raised in a family that honored service—his father is a 25-year career Army veteran—the Tuskegee, Ala. native envisioned a military career with a transition into law enforcement.
However, during his six years as an enlisted Marine—he would serve two combat tours in Iraq as a member of the 4th Combat Engineer Battalion—'Mayo' became intrigued by military aircraft and the maneuvers he saw them perform during combat missions.
"Engineering always fascinated me because I have a curiosity for how things work," Mayo said. "I've ridden around in a lot of military helicopters and seen some really outstanding, amazing things from some of the equipment within the military. Things I just didn't think were physically possible."
After the Marines, Mayo used his military education benefits to pursue a B.S. degree in mechanical engineering at the Virginia Military Institute (VMI), a school he chose with an eye on continuing a career of service.
"I picked VMI because I wanted my undergraduate education to be an extension of my military focus," Mayo explained. "I was thinking that I would finish my degree and return to the Marines as a commissioned officer."
While Mayo felt a strong sense of commitment to return to the Marines—and his fellow service members—after graduating VMI, those same Marines encouraged him pursue his engineering interests.
Mayo would go on to attend the University of Alabama, Huntsville—a city known as "Rocket City" for its long history with U.S. space missions—and complete his M.S.E. in aerospace engineering with work focused on solid rocket development and propulsion. But once again, he found himself at a crossroads. He still hadn't ruled out returning to the Marines or a career in law enforcement—now with an eye towards federal agencies such as the FBI or CIA—but after getting accepted into several Ph.D. programs, Mayo decided to come to the University of Maryland.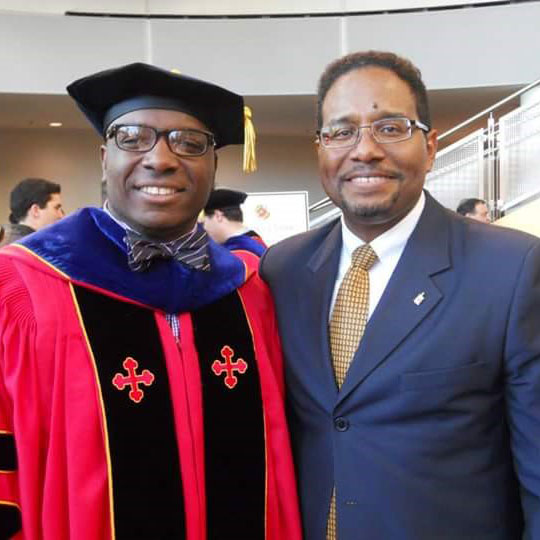 "I immediately began to see a whole new set of problems and technical challenges to engage in, and I had a really great experience engaging with Dr. Pines [now University of Maryland President], who was the department chair at the time," Mayo said. "It was just a great community, and I worked with Dr. Hubbard and Dr. Chopra on helicopter dynamics research that was funded by the Army Research Lab. So I was thinking again, that maybe that's a way for me to give back and serve."
His research at Maryland—along with internships at the Navy Research Lab and Army Research Lab's Redstone Arsenal—would continue to reflect his commitment to service and supporting the warfighter.
Upon graduation, Mayo was recruited by the Aerospace Corporation where his academic and engineering expertise, along with his military background, made him an exceptional fit for a company that works with a number of U.S. government, military and intelligence agencies.
Moving quickly through a series of promotions over the next six years—his work focusing on areas of national intelligence, security, space component design, systems integration and engineering, acquisitions and development—Mayo became the Associate Director of the Space Systems Engineering Department. Most recently, he was selected for a detailee assignment as a technical advisor to the Assistant Secretary of Defense for Space Policy – Integration Directorate at the Pentagon.
On his success at Aerospace Corporation, Mayo said, "I credit the leadership skills I learned in the Marine Corps., which were further honed and developed through a technical background at Virginia Military Institute, but I have to credit the aerospace department at Maryland because that foundation, was built in part—especially the management piece—through what I learned working and engaging in the labs, and driving forward on independent research, and as a student leader, I got a lot more flexibility and freedom. Throughout the academic process, there were many obstacles, including professors who actively encouraged removal from the program. However, the combination of perseverance, focus, and other allies helped to ensure success."
"You can do whatever you want to do, but with that comes a responsibility to bring your passion and drive to the thing you want to do, and you have got to be willing to put in that work. There are a lot of things that are difficult. Everyone has their own, unique set of challenges, but overcoming means that's bringing that drive, resiliency and tenacity to stick with it until it's done."
While enjoying a highly successful career, Mayo still felt that desire to serve and give back. When he heard about a program called the Direct Commission Program within the Navy Reserves—a highly competitive program that selects professionals such as doctors, lawyers and engineers—it presented a perfect opportunity.
However, it would take two applications before Mayo was selected for the Intelligence Officer Program. Only a handful of candidates are selected annually from nationwide applicant pools numbering in the hundreds.
"It's really an exciting opportunity to jump back in, to contribute, and to serve," Mayo said. "To take what you do as a civilian, and do it on a part-time basis in the military as an officer and to contribute in the defense mission, is really unique."
When asked what's been a driving force in his career—and life—beyond his commitment to serve, Mayo quickly points back to a single piece of advice his mom repeatedly told him and his siblings. "You have to finish what you start."
"That was a big piece of my success. You absolutely have to finish," Mayo said. "One of the things that I've observed in my surroundings, and I try to encourage in the folks around me, is that the grit piece, that resilience, when you come in as a beginner—which everybody does—is that you have to keep at it, and eventually you will go from beginner, to intermediate, to expert. That will happen if you don't give up."
While a commitment in finishing what you start is a core component of Mayo's career ethic, he commits to tasks with an enthusiasm that is contagious when you speak with him.
He credits some of that enthusiasm with growing up in a family of seven siblings where interacting with different personalities required some creativity for both survival, and to form a family team that loved and supported one another.
"You can do whatever you want to do, but with that comes a responsibility to bring your passion and drive to the thing you want to do, and you have got to be willing to put in that work" Mayo added. "There are a lot of things that are difficult. Everyone has their own, unique set of challenges, but overcoming means that's bringing that drive, resiliency and tenacity to stick with it until it's done."
But Mayo also advises that hard work and success don't come without failures, and it's important to not let those failures derail you.
"If you believe you are cut out for what you are doing, keep going. Everything can be taken again. There are second chances, there are even third chances. It's only over when you stop," Mayo said, and points to a favorite quote, 'You can allow someone to fail without them becoming a failure.'
In looking ahead to his role in the Navy's Direct Commission Officer Program, Mayo sees his engagement as a way to not only be a better engineer, based on his experience and connection to the military, but to also develop a better understanding of the types of services, products, tools, services and analysis that goes in to what he does at Aerospace Corporation.
"All of this experience helps me be both a better leader, but helps me be a better steward of the tax payer dollars which fund work that I support," Mayo said, adding, "I want to be as efficient as I can be in my service and in the resources that we leverage to ensure that we're getting what we need, and then there's the defense component. The safer we are, the better we are, and that means a lot to me."
Published October 7, 2021