Aerospace Engineering Inducts Class of 2023 Academy of Distinguished Alumni Members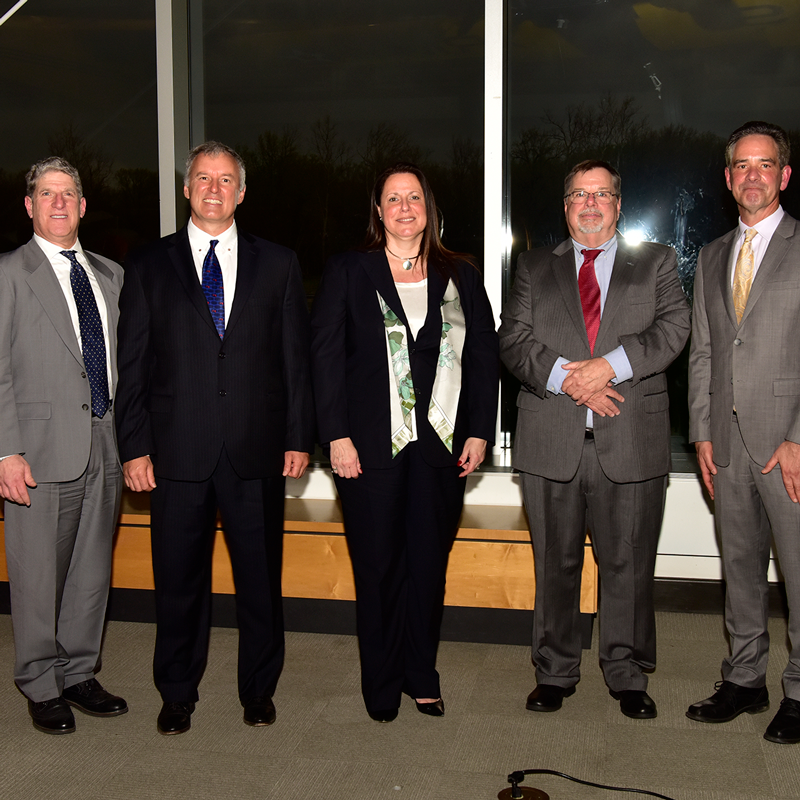 On April 1, 2023, the Department of Aerospace Engineering inducted five new members into its Academy of Distinguished Alumni during a ceremony held at the College Park Aviation Museum.
Dr. Andreas (Andy) Bernhard (M.S. '95, Ph.D. '00) is the Director of Aircraft Design at Sikorsky Aircraft. He is responsible for all technical aspects related to the design of blades, rotors, transmissions, airframes, and propulsion systems, across all platforms.
Previously, Dr. Bernhard was the Chief Engineer for the CH-53K King Stallion providing overall strategic leadership for all technical activities of the CH-53K program, including design development, integration and test, and product improvement roadmaps. Major accomplishments included first flight, first production contract award, and international debut at the Berlin Airshow. From 2013-2015, Dr. Bernhard was the Chief Engineer for the S-97 RAIDER™, leading the team from critical design review to first flight. From 2008-2013, he was the Chief Engineer for Sikorsky Aerospace Services responsible for all aspects of Aftermarket Engineering. FULL BIO.
Flavia De Veny ('92) is a General Management and Operations Executive who has successfully managed numerous divisions and businesses—from ground up builds to turnarounds—over the past 30 years. Her work has resulted in extensive revenue growth, numerous new market penetrations, and large-scale company expansions.
As President & CEO of Camaco-Amvian (P&C), Ms. De Veny managed a $500+M global seating solutions auto supplier with nine manufacturing facilities and 3,200 employees spanning six countries. She effected a wholesale organizational turn-around positioning the company for prudent and profitable growth in eighteen months. Among her many accomplishments, she built the company's entire executive leadership team, increased enterprise value by $200M in three years on a $500+M P&L, achieved an adjusted 3-year EBITDA CAGR of 82%, and re-built and improved vital customer and supplier relationships.
Ronald Luzier ('72) has over 40 years of experience in the design, analysis, manufacturing, and testing of aerospace systems.
One of three founders of Swales Aerospace, he helped build the company to a staff of 1,000 with revenue of $200M. He managed technical teams at Swales in support of the Shuttle High Energy Astrophysics Lab and the Gamma Ray Observatory, building thousands of heat pipes, hundreds of composite structural panels, dozens of advanced thermal management systems, and flight mechanisms, and six spacecraft for NASA Goddard.
Daniel Newman (M.S., '92) is a Boeing Senior Technical Fellow in Aircraft Configuration Development and currently serves as the Chief Engineer for Advanced Vertical Lift, in the Phantom Works Division of Boeing Defense Space & Security.
He was an architect of the Transformational Vertical Flight Workshops that catalyzed the urban air mobility and electric VTOL initiatives. He chaired the NATO Industry Advisory Group (NIAG) Study Groups SG-219 (Next Generation Rotorcraft Capabilities), SG-239 (Integrated Sustainability for the Next Generation Rotorcraft), and SG-266 (Joint-Domain NATO Rotorcraft Interoperability and Survivability in a Peer Nation Threat Environment). He also served on National Academies Panels on Propulsion Sciences (2020) and Maneuver (2018).
Kerry Wisnosky ('86) is an aerospace engineer with over 30 years' experience providing leadership in developing space and missile technology for National Security, civilian agency, and commercial customers.
He currently serves as the Chief Operating Officer/Executive Vice President for Quantum Space, a commercial space company at the forefront of developing the infrastructure required to travel through and operate in deep space safely, reliably, affordably, and routinely.
The Academy of Distinguished Alumni was established to honor University of Maryland alumni who have made significant contributions to the field of Aerospace Engineering. In the fall of 1999, the Department of Aerospace Engineering inducted its first four members, as well as aviation pioneer and lifelong UMD supporter, Glenn L. Martin.
View all inductees at: aero.umd.edu/alumni-industry/distinguished-alumni
Published March 31, 2023