Celebrating Black Aerospace Engineers: Louise Ami Ahure Powell ('06, M.S. '09, Ph.D. '14)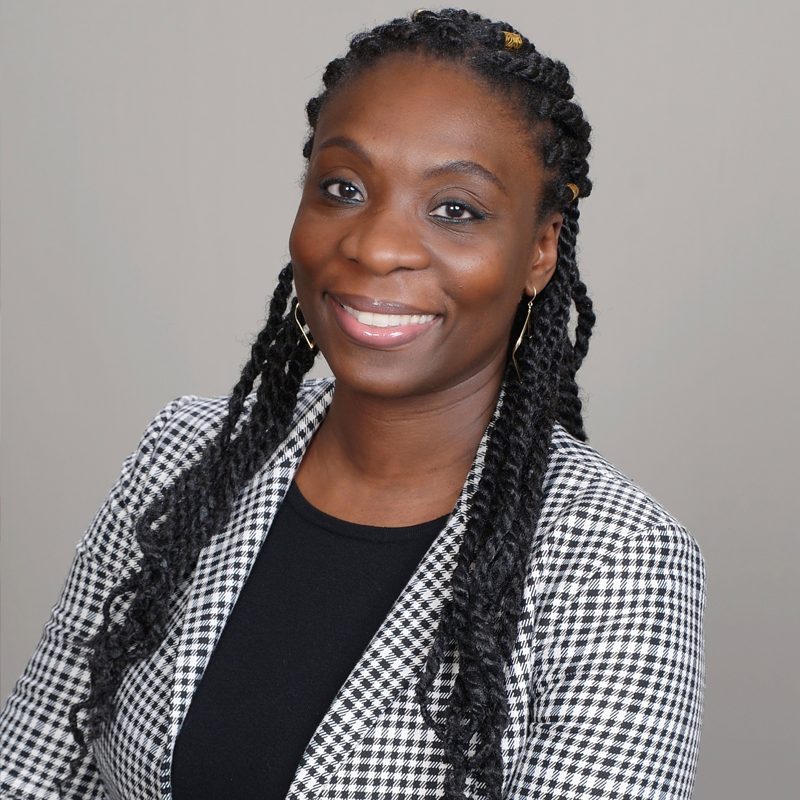 In celebration of Black History Month, the Department of Aerospace Engineering is highlighting some of our talented and diverse alumni through a series of stories sharing their journeys and advice for aspiring aerospace engineers.
Louise Ami Ahure Powell ('06, M.S. '09, Ph.D. '14) is a staff scientist and mechanical engineer at the National Institute of Standards and Technology (NIST) in Gaithersburg, Md., in the Functional Polymers group of the Materials Measurement Laboratory.
Her research interests are in understanding failure in polymer matrix composites to improve their design for aerospace, automotive and infrastructure applications. She utilizes advanced optical imaging techniques combined with advanced experimental methods in solid mechanics (e.g., digital image correlation for strain mapping) to characterize the embedded fiber-matrix interface in composites. She also collaborates through the Center for Hierarchical Materials Design (CHiMaD) with industry partners and academia.
She was a recipient of the National Research Council (NRC) Post-Doctoral fellowship (centrally funded by the Director's Office) in 2018 and previously collaborated with Ford Motor Company, Dow Chemical Company and Northwestern University on the development and characterization of carbon fiber composites for lightweight vehicles (funded by the U.S. Department of Energy).
Ahure Powell's Ph.D. dissertation at the University of Maryland (UMD) was on magnetorheological fluids and applications to adaptive landing gear for a lightweight helicopter, which was funded by Boeing and the U.S. Army Aviation Applied Technology Directorate (AATD).
In 2009, she received a Vertical Flight Foundation (VFF) Scholarship, and also won both the AIAA Mid-Atlantic Regional Student competition and the SAMPE University Research Symposium's Ph.D. category, which earned her a trip to Japan to present her research at the SAMPE conference.
She is an active member of professional societies such as the Society for the Advancement of Material and Process Engineering (SAMPE), the American Institute of Aeronautics and Astronautics (AIAA) and the Society of Automotive Engineers.
Where/How did you get started on your aerospace engineering journey?
My aerospace engineering journey started as a child traveling frequently between two continents.
I was born in Brussels because my parents were on a diplomatic mission at the Embassy of Côte d'Ivoire in Belgium at the time, so I traveled a lot between Europe and Africa as a child. I was always excited to be onboard airplanes. I looked forward to takeoff and landing to see the 'moving parts' (i.e., flaps and spoilers) on the wings, and I always wondered how they worked.
We moved to Côte d'Ivoire where I went to high school, and right after graduation, a very close family member—who was an airline operation supervisor at the time—asked me what I wanted to study after my Baccalauréat (i.e., high school diploma). Understanding how airplanes were made and worked was my answer.
He advised me to study aerospace engineering, and we spent several hours looking for universities with the best aerospace engineering programs. Our focus was on the United States because my mother's work had relocated her to Washington, D.C. on another diplomatic mission. At that point, attending the University of Maryland was my main goal since their aerospace engineering department was among the top 10 best programs in the United States in the late 90's (by U.S. News and World Report).
When I moved to the United States, I initially attended Montgomery College to learn English for a year and completed my first two years of coursework toward my bachelor's degree in aerospace engineering. I then transferred all my course credits to UMD and went on to complete my Bachelor of Science, a Master's of Science, and Ph.D. in Aerospace Engineering.
Who and/or what inspires you?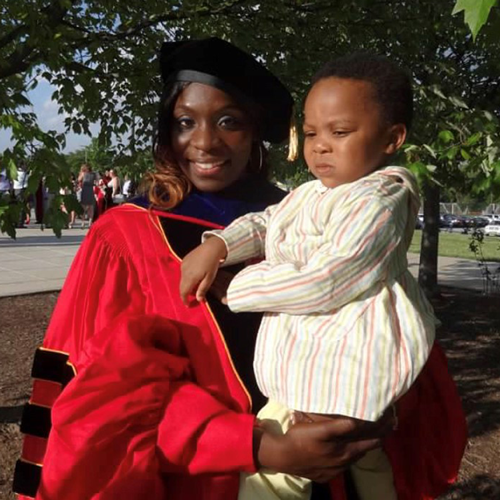 "Three main factors [helped me succeed]: asking for help from great mentors (i.e., active listeners, sincere, respectful, and enthusiastic) to lead me in the right direction; enjoying the work that I do and keeping a positive attitude; and learning from experiences (whether good or bad) and developing important strengths to continuously grow both personally and professionally."
Three different things that inspire me are my family, leadership and challenges.
First, my mother is my biggest inspiration. She is a brave and strong woman and has always placed her family first. She has an exceptional work ethic, which she gets from her own mother, and she has invested so much time and effort into her children (my brother and I) to help us succeed. In addition, my children also inspire me because of their eagerness to always want to learn and their passion for science!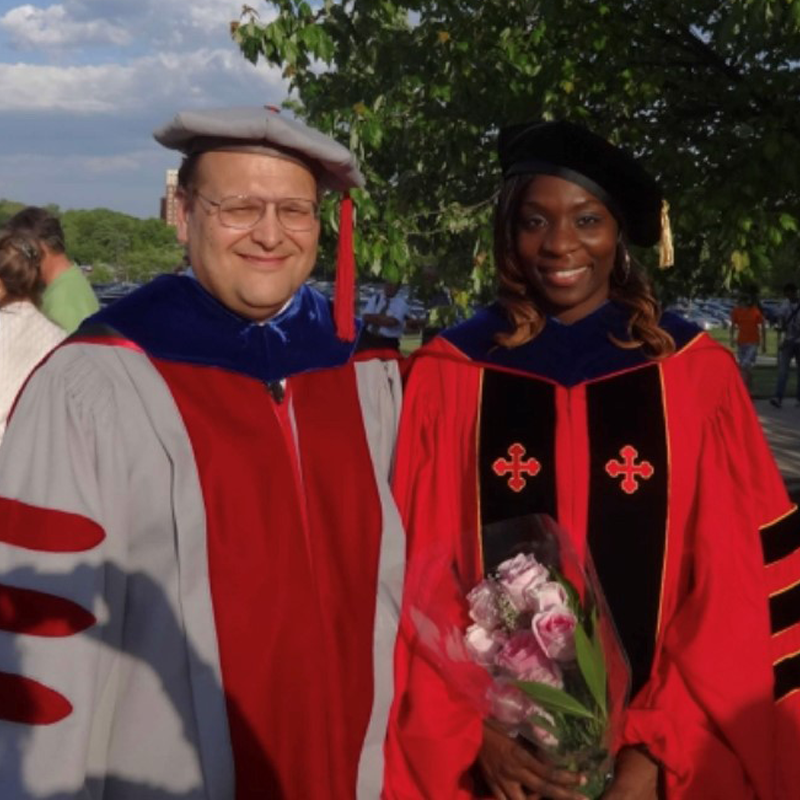 Next, great leaders, who help people work toward a common goal, also inspire me. For example, my former Ph.D. advisor, Dr. Norman Wereley (pictured below with Ahure Powell at graduation) was Department Chair of the Aerospace Engineering program, Director of the Smart Structures Laboratory, and Director of the Composites Research (CORE) Laboratory at UMD when I was his student. As chair, he was a strong leader for the entire department while simultaneously leading dozens of Ph.D. students towards completing their research projects, publishing in several journal and conference papers and graduating in a timely manner.
Last, I faced several challenges in graduate school, in my personal life, and through my professional career development where I had to adapt to changing conditions (e.g., due to the pandemic). However, these challenges forced me to approach each situation from a different perspective and get out of my comfort zone to find the strength to prevail. These are sources of inspiration to me.
What has helped you succeed in your aerospace engineering journey?
Three main factors: asking for help from great mentors (i.e., active listeners, sincere, respectful, and enthusiastic) to lead me in the right direction; enjoying the work that I do and keeping a positive attitude; and learning from experiences (whether good or bad) and developing important strengths to continuously grow both personally and professionally.
In the words of Maya Angelou, "success is liking yourself, liking what you do, and liking how you do it." These words truly resonate with me in what has helped me succeed in my aerospace engineering journey.
What advice would you offer current students?
Four pieces of advice that I would offer current students:

Set goals: Write a list of action steps needed to achieve your objectives and goals; be persistent in followingyour action plans whether with your classes, research, internships, or future careers.
Communicate effectively with people that can help you thrive: For example, your academic advisor and your department faculty and staff can connect you to the right people and opportunities you need to succeed if you clearly describe your objectives.
Present your research progress during group meetings or conferences (for current students doing research): It helps sharpen your knowledge and build confidence skills in front of an audience.
Finally, take care of your physical and mental health: For example, get sufficient rest, eat balanced meals and set clear boundaries between work and relationships.
What have been some of your greatest personal/professional successes?
I have three greatest personal/professional successes that stand out to me:
Completing my Ph.D. in aerospace engineering and making my family proud. I became a wife and a mother in graduate school. Although it was challenging, I learned to prioritize my time and stay focused on my goals.
Giving back to my community (on a professional and personal level) by volunteering in professional societies, fundraising for student events and teaching high school students and elementary school children aerospace engineering hands-on projects and other S.T.E.M. activities.
Being valued for my research contributions when I was at UMD and in my current work.
Published February 15, 2022