Newly-Opened SMART Building to Spur Autonomy Research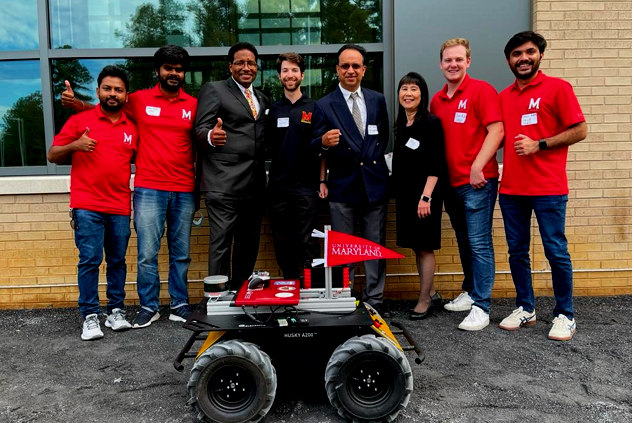 The University of Maryland (UMD), already a leader in autonomy and unmanned systems research, is poised for further innovation with the launch Friday (October 15) of a state-of-the-art facility at the University System of Maryland at Southern Maryland (USMSM).
The new Southern Maryland Autonomous Research and Technology (SMART) Building, located in St. Mary's County, includes underwater, air, and land testing facilities that are expected to be utilized widely by researchers at UMD's A. James Clark School of Engineering, the Department of Computer Science, the Institute for Systems Research, the Maryland Robotics Center (MRC), and other departments, centers, and units at UMD.
"What we do here will move out into society," said A. James Clark School Dean Samuel Graham, Jr. in remarks delivered at Friday's opening ceremony for the new building, stressing the importance of creating an environment that fosters innovation. He was joined at the event by USM Chancellor Jay A. Perman, UMD President and former Clark School Dean Darryll J. Pines, Maryland lawmakers and representatives of state officials, and members of the USMSM Board of Advisors.
The $86 million, 84,000-square foot building is home to, among other labs and facilities, the Maryland Autonomous Technology Research and Innovation Xploration (MATRIX) Lab, which features an 80' by 60' open air-land lab with an amphibious pool, a hydrology lab featuring a circulating water channel with an 80 cm by 130 cm cross-section, an AR/VR capable research space, roof-top antenna farm, and outdoor ground and air vehicle testing.
Derek Paley, Willis H. Young Professor of Aerospace Engineering Education and MRC director, said the MATRIX Lab will spur a deeper engagement with USMSM.
Together with the UMD Unmanned Aircraft Systems (UAS) Test Site—a Clark School facility that has been operating next door to USMSM since 2014—the new building forms "the southern node of an AI and autonomy network spanning the state of Maryland," Paley said.
"I am beyond excited about having the new facilities and space available to test new algorithms for my work in multi-agent UAV safety certification and control."
According to aerospace engineering professor Huan "Mumu" Xu, who recently received an American Institute of Aeronautics and Aviation (AIAA) for her work on an anti-collision system for unmanned aircraft, the SMART Building's new labs "go beyond standard bench testing, providing real-world scenarios in a controlled environmental setting."
"I am beyond excited about having the new facilities and space available to test new algorithms for my work in multi-agent UAV safety certification and control," Xu said.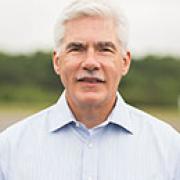 Reinforcing the importance of its connection with USMSM, the Clark School last week named UMD UAS Site Director Matt Scassero to the newly-established position of Director of Research, Innovation and Outreach for the Clark School at USMSM.
Scassero, who will continue to head up the Test Site during the selection process for a successor, will provide leadership for the Clark School's educational and research programs at USMSM, according to a statement from the Dean's office.
Scassero said the Clark School will be able to build off of its existing strengths in the autonomy sphere, adding the multidomain capabilities of the MATRIX Lab to the air capabilities of the Test Site.
"In effect, we're creating a joint test bed," he said. "We'll also be leveraging partnerships with government and other academic institutions to project the Clark School forward in a leadership role in autonomy and AI."
The new facility is expected to be a catalyst for economic activity and job growth in the region. St. Mary's County is home to several important economic assets—including the St. Mary's County Regional Airport and Naval Air Station Patuxent River—as well as defense contractors, tech companies, and a business technology incubator, TechPort, which all combine to create a burgeoning "Innovation District" fostering an emerging research-and-development economy in Southern Maryland.
Published October 19, 2021