Four Aerospace Students Receive Society of Satellite Professionals International Scholarships
This spring, four aerospace engineering students, Eric Frizzell, Hermann Kaptui Sipowa, Jacob McCullum and Jackson Shannon, received Society of Satellite Professionals International (SSPI) Scholarships for the spring 2017 semester.
The SSPI Mid-Atlantic chapter, which serves the areas of Delaware, Maryland, Virginia, and West Virginia, and the District of Columbia, has a partnership with the university and regularly supports UMD students through SSPI Mid-Atlantic Chapter Scholarships which provide funding to students pursuing research in relevant fields.
Eric Frizzell is a senior in the Aerospace Engineering Honors program and a research assistant in UMD's Center for Orbital Debris Education and Research (CODER) under the mentorship of Associate Professor Raymond Sedwick. His current research project at CODER focuses on speeding conjunction assessment of orbital debris using parallel processing and GPUs. When the resolution of tracking objects in Earth's orbit is expanded to include debris smaller than 10cm in size, current conjunction assessment techniques are unable to meet the data refresh rate and possible conjunction events could go unnoticed. This research aims to show an order of magnitude reduction in processing time, ensuring that satellite operators are notified of all possible events and can take mitigating actions.
Frizzell is the President of the UMD chapter of the National Aerospace Honor Society, Sigma Gamma Tau, where he mentors students, engages in education outreach and provides tours of the aerospace engineering department for prospective students. Frizzell received his B.S. in Economics from the University of Michigan in 2009.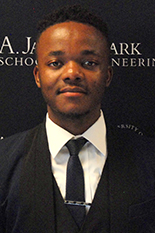 Aerospace engineering senior Hermann Kaptui Sipowa is a Clark Foundation Transfer Scholarship recipient who transferred to the University of Maryland in summer 2015. Originally from Cameroon, the scholarship enabled Kaptui Sipowa to pursue his passion for Aerospace Engineering, and in particular, his interest in astrodynamics and spacecraft dynamics and control. As a member of Assistant Professor Christine Hartzell's Lab, he had the chance to work on his own project quantifying the deformation of a silicone bag of magnetorheological (MR) fluid. The bag is designed to be used for a robotic gripper in the International Space Station. This work led to his selection as an SSPI Scholarship recipient. "I am looking forward for the learning experience ahead," said Kaptui Sipowa. "I going to use this funding of the SSPI to increase my knowledge and develop my research."
Kaptui Sipowa is a member of both the Hillman Entrepreneurs Program and the Ronald E. McNair Post-Baccalaureate Achievement Program. After graduating this spring, he plans to pursue his Ph.D. in aerospace engineering at the University of Colorado Boulder.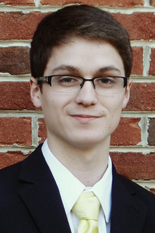 Jacob McCullum is a rising junior Aerospace Engineering Honors and University Honors student. He is a member of the student and national chapters of the American Institute of Aeronautics and Astronautics (AIAA) and the Society for the Advancement of Materials and Process Engineering (SAMPE). In addition, he is an assistant for the Design Build and Fly team and is joining Sigma Gamma Tau this spring.
McCullum aspires to work in the defense industry and plans to pursue obtaining his private pilot's license in his spare time. This spring, he will be conducting structural health monitoring (SHM) research in the Composites Research Lab (CORE) under Minta Martin Professor of Aerospace Engineering Norman Wereley and Dr. Byungseok Yoo. SHM involves using various sensors and signal processing techniques to monitor, locate and grade the severity of damage within a structure. McCullum's research involves the use of piezoelectric sensors/actuators, and it will begin to explore the application of the guided wave method of SHM applied to an F/A-18C wing section. The general goal of this work is to establish a base for future SHM research applied to actual, complex aircraft structures.
Calvert County, Maryland native Jackson Shannon has been interested in engineering his entire life and is now a senior in aerospace engineering. He currently works with Assistant Professor Christine Hartzell on research that focuses on the design of a theoretical cubesat constellation for orbital debris mapping. It is hypothesized that detecting soliton waves formed by orbital debris may provide a new means for orbital debris detection. Last semester he developed a Matlab code that simulated a CubeSat constellation over extended periods of time, and could determine the number of debris detected by each CubeSat. Shannon's current work focuses on optimizing the constellation for maximum debris detections in minimal time, and he will be presenting his progress at the AIAA Student Conference in April. "I have enjoyed my research with Dr. Hartzell very much," said Shannon. "And I look forward to continuing this project under the support of the SSPI Scholarship."
SSPI scholarship recipients will participate in the 2017 SSPI Mid-Atlantic and Iridium Student Competition scheduled April 29, 2017 in Leesburg, Va. This event enables engineering teams from local universities to showcase research in new technologies and approaches that can greatly enhance the space and satellite industries in the not-too-distant future.
Published April 6, 2017