Aerospace Engineering Students Win at AIAA YPSE Conference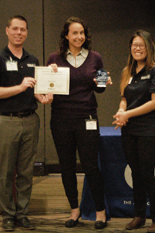 Both undergraduate and graduate aerospace engineering students from the University of Maryland (UMD) took top honors at the 2019 American Institute of Aeronautics and Astronautics (AIAA) Region 1 Young Professionals, Students, and Educators (YPSE) Conference held November 15 at the Johns Hopkins University Applied Physics Laboratory's Kossiakoff Center.
In the graduate category, both the first and third place wins went to UMD students. In first place was Jonathan Lefebvre (faculty advisor Associate Professor Dr. Anya Jones ) with his project "Influence of Downstream Bluff Body on Hotwire Anemometer Measurements" and receiving third was Alexandra Le Moine (faculty advisor Dr. Alison Flatau) and her work on "A Preliminary Investigation into the Effects of Turbulence Modulation in Particle-Laden Gas Turbine Engines."
Winning first place in the undergraduate category were Aerospace engineering students Rachel Harvey and Imran Khawaja, along with UMD mechanical engineering student Peter Mnev, with their project "Robotic Habitat Technologies for Minimizing Crew Maintenance Requirements."
The YPSE conference offers opportunities to Young Professionals (age 35 and under), Graduate, Undergraduate, High School students, and Educators to submit and present technical papers in any area of interest to the aerospace community and receive feedback from professionals in the industry. Best presentation awards are given in each category.
For more photos from the event, visit AIAA's MidAtlantic Section Facebook page.
Published December 11, 2019