Brin Family Prize to Support Excellence in Drone-Related Activity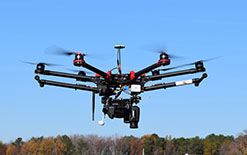 The University of Maryland (UMD) has received a generous gift from the Brin Family to support a contest that will result in prizes for excellence in drone-related activity and inspire UMD students, faculty and staff engaged in research, competitions and activities involving unmanned aerial vehicles.
"The Brin Family Prize supports a drone competition that provides a new platform to bring together faculty, staff and students in computer science and aerospace engineering to collaborate and innovate," says Ming Lin, chair of UMD's computer science department. "This gift will launch amazing projects—the sky is the limit!"
The contest, which calls for proficiencies in computer science and aerospace, is open to all UMD faculty, staff and students. Those who apply will be selected to participate based on the merits of the project they describe (for example, the project's main objective, technical aspects and how it might benefit society). Applicants will also be required to explain what the personal and professional impact of winning the prize would mean to them.
"This gift means a great deal," says Norman Wereley, chair of UMD's aerospace engineering department. "It will spur innovation and excellence in various applications of unmanned aerial vehicles and produce remarkable displays of flight capabilities."
Submitted projects will be evaluated and judged by a committee of experts in the fields of computer science and aerospace engineering. The deadline for applications is April 16, 2018 and contest finalists will be notified by April, 30, 2018. Those selected as finalists must be available on May 10, 2018 to present their projects to the committee.
For more information and to apply, visit https://go.umd.edu/brinprize.
Published April 4, 2018