Developing Revolutionary Engineers & Mentors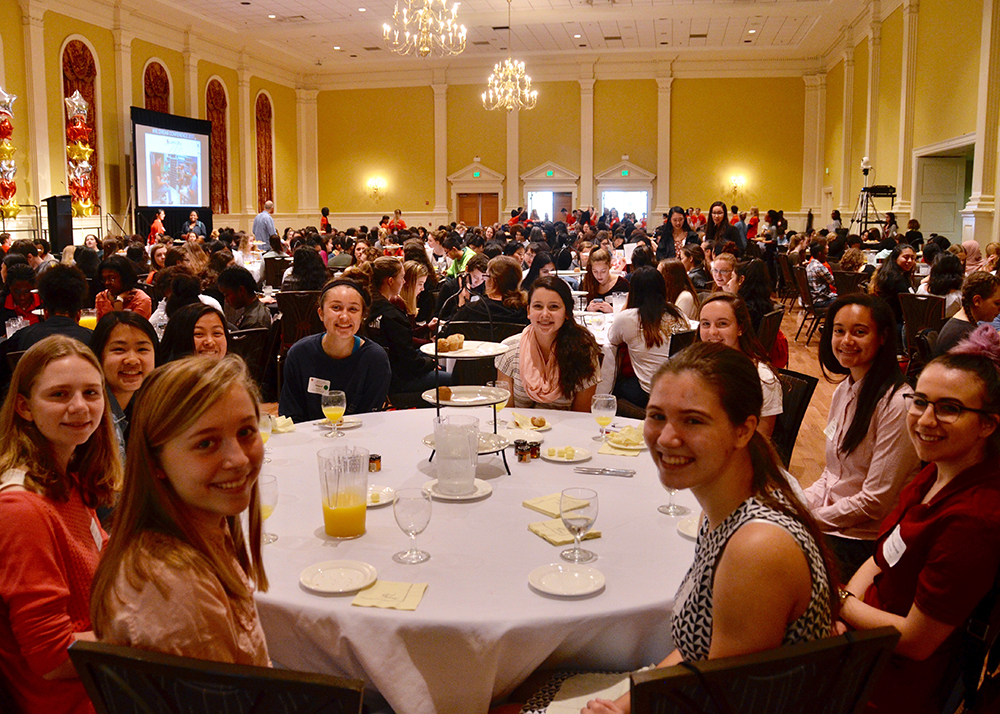 Without career role models to look up to, it can be a challenge to know how to take your passions, talents, and interests further than a classroom. The Clark School's Women in Engineering (WIE) DREAM Conference hopes to change that by introducing high school girls to the possibilities of a future in engineering.
The DREAM (Developing Revolutionary Engineers and Mentors) Conference celebrated its ninth year on February 25, 2017, with 400 high school girls, 150 student volunteers, and 200 parents, educators, and professionals. The conference was split into sessions of presentations from students, department representatives, and alumni. These were followed by a luncheon with keynote speaker Jenni Carter, principal and owner of JCarter Consulting, LLC, which provides business continuity and sustainability consulting. The conference ended with an information fair where student groups, sponsors, and academic departments set up booths for attendees to ask questions and learn more about the different fields of engineering.
Becky Kenemuth, WIE assistant director of outreach and recruitment, says that by introducing girls to the departments, resources, and support at the Clark School, they can easily envision themselves becoming engineers. "A lot of girls don't have engineering on their radar; they like math, they like physics, but they don't see themselves in engineering because there's not a lot of women in the field," Kenemuth said.
Katie Edwards (B.S '17, civil engineering) attended the DREAM Conference for the first time in 2012 as a junior in high school and was inspired by the presence of successful and driven female engineering students. Her experience broadened her understanding of the opportunities available in engineering and helped her focus on which degree she wanted to pursue.
"Before I even got to campus, I had women to look up to in my engineering journey," Edwards said. She enrolled at UMD in fall 2013 and spent her freshman year in the FLEXUS Living and Learning program, a WIE community that promotes gender diversity in engineering. Remaining connected to the conference, Edwards volunteered as a student panelist her sophomore year, and this year helped run the table for American Society of Civil Engineers Student Chapter, of which she is president.
This year's keynote speaker and Clark School alumna Jenni Carter (B.S '81, chemical engineering) exemplifies what it means to be a role model for these young women. As principal and owner of her consulting company, she not only has 30 years of experience in environmental sustainability, but is also a successful leader in a male-dominated profession. Carter explains that women are the key to the future of sustainability. She says that women tend to work together in teams, show empathy for others, empower each other, and show concern for future generations.
A healthy future depends on living sustainably, it depends on people who can collaborate, work in teams and lead—and those are things that women do well.
Published April 4, 2017