Wereley Elected SPIE Fellow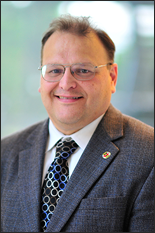 Department of Aerospace Engineering Chair and Minta Martin Professor of Aerospace Engineering Norman Wereley has been elected International Society for Optical Engineering (SPIE) Fellow.
SPIE Fellows are selected and recognized for their significant scientific and technical contributions in the multidisciplinary fields of optics, photonics and imagery. Wereley was selected for his contributions to the advancement of smart structures and materials.
Wereley has pioneered a new technology area for aerospace systems – the use of magnetorheological fluids to enhance stability and to mitigate vibration and shock. He has actively transitioned technologies from his laboratory to industry and led the development of numerous applications: semi-active magnetorheological seat systems for protection against whole body vibration and shock loads resulting from crash or blast events; magnetorheological fluid elastomeric dampers for helicopter rotor stability augmentation and magnetorheological landing gear systems for helicopters. His research has been recognized by several awards and honors, such as SPIE's 2013 Smart Structures and Materials Lifetime Achievement Award and he currently holds 17 patents with several patents pending.
Most recently he was the lead editor and contributing author for a new book Magnetorheology: Advances and Applications published by the Royal Society of Chemistry as part of their series on smart materials.
Wereley is a lifetime member of SPIE and actively volunteers at SPIE events as a conference chair and co-chair, session chair, and plenary lecturer. He has published over 55 papers in Proceedings of SPIE and has taught a short course at an SPIE conference. In addition, he received a lifetime achievement award and a product implementation award in 2013.
For more information on Wereley and his research, visit his faculty webpage.
Published March 3, 2014