Wereley Receives Engineer of the Year Award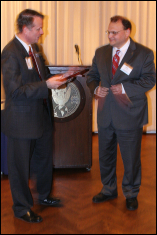 Dr. Norman M. Wereley, the Techno-Sciences Inc. Professor of Aerospace Engineering and Director of the Smart Structures Laboratory and Composites Research Laboratory, was awarded the American Institute of Aeronautics and Astronautics (AIAA) National Capital Section Engineer of the Year Award. The Engineer of the Year Award is a premier award of the National Capital Section (NCS) of the AIAA, and is presented to a local AIAA member who has made a recent (within the past two years) individual contribution to the application of scientific and mathematical principles leading to a significant accomplishment or event worthy of AIAA's national or international recognition.
Professor Inderjit Chopra nominated Dr. Wereley for the award. Dr. Wereley was recognized at the AIAA-NCS Annual Honors and Awards Banquet, hosted by The Council of the National Capital Section of the AIAA on June 18, 2009. He was honored for his, "revolutionary contributions to the development of adaptive occupant protection systems employing magnetorheological energy absorbers, as well as leadership in education, mentoring, and professional service." Dr. Wereley is a key member of the Alfred Gessow Rotorcraft Center, and is an internationally recognized leader in the field of Smart Structures and Materials in the specialties of magnetorheological (MR) fluids and MR devices. He has developed highly innovative applications of MR technology to adaptive crashworthiness systems for automotive and aerospace applications, such as air bag systems, crashworthy helicopter crew seats, semi-active vibration damping, and shock absorption systems. Most recently, Dr. Wereley lead the development of an adaptive seat vibration system for the SH-60 Seahawk helicopter that will soon be entering its flight testing phase, as well as adaptive seat shock and vibration systems for automobiles, amphibious vehicles and fast boats.
06/29/09
Published June 30, 2009