Chopra Publishes New Book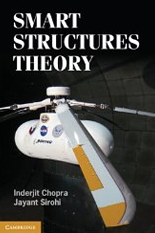 Alfred Gessow Professor in Aerospace Engineering Inderjit Chopra has published a new book, "Smart Structures Theory," as part of Cambridge University Press's Aerospace Series.
According to the publisher's description "the twenty-first century could be called the 'Multifunctional Materials Age.' The inspiration for multifunctional materials comes from nature, and therefore these are often referred to as bio-inspired materials. Bio-inspired materials encompass smart materials and structures, multifunctional materials and nano-structured materials. This is a dawn of revolutionary materials that may provide a 'quantum jump' in performance and multi-capability."
The book, written with co-author Dr. Jayant Sirohi, focuses on smart materials, structures and systems, referred to as intelligent, adaptive, active, sensory and metamorphic. The purpose of these materials for smart systems is their ability to minimize life-cycle cost and/or expand the performance envelope. The ultimate goal is to develop biologically inspired multifunctional materials capable of adapting their structural characteristics (stiffness, damping, viscosity, etc.) as required, monitor their health condition, perform self-diagnosis and self-repair, morph their shape and undergo significant controlled motion over a wide range of operating conditions.
Chopra, who is also Director of the Alfred Gessow Rotorcraft Center, is interested in multidisciplinary research in rotorcraft aeromechanics with a focus on structural dynamics, aeroelasticity, smart structures and micro air vehicles. He has been working on fundamental problems related to aeromechanics of helicopters including: aeromechanical stability, active vibration control, modeling of composite blades, rotor head health monitoring, aeroelastic optimization, smart structures, micro air vehicles and comprehensive aeromechanics analyses of bearingless, tilt-rotor, servo-flap, coaxial, compound, teetering and circulation control rotors.
Sirohi is professor in the Aerospace Engineering and Engineering Mechanics Department at the University of Texas, Austin and an expert in high power density solid state actuators, multifunctional structures, multi-mission capable micro/unmanned aerial vehicles and rotorcraft design. Sirohi had previously worked at Sikorsky Aircraft Corporation where he was a Staff Engineer in the Advanced Concept group.
For more information on Dr. Chopra and his research, visit his faculty webpage or website.
Published February 28, 2014