Wereley Awarded 2015 AIAA NCS Marvin C. Demler Award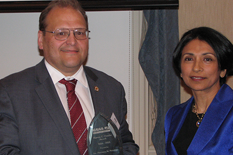 The National Capital Section (NCS) of the American Institute of Aeronautics and Astronautics (AIAA) awarded Department Chair and Minta Martin Professor of Aerospace Engineering Norman Wereley the 2015 Marvin C. Demler Award in recognition of his outstanding support and many contributions to NCS.
Among his many contributions to the section, Wereley leads the NCS Honors and Awards Program, supports fellow engineers through promotion for AIAA awards and fellowships and engages his students directly with the organization, many of whom are now active members of the NCS Council.
In addition to supporting NCS activities, Wereley is actively involved in promoting both NCS and STEM initiatives through outreach activities such as Discover Engineering Day and serving as a liaison with the University of Maryland AIAA Student Chapter.
Wereley, along with AIAA-NCS Chair Dr. Supriya Banerjee, was also instrumental in starting a new technical seminar series hosted at the University of Maryland—the AIAA National Capital Section Seminars on Emerging Aerospace Technologies. The series provides opportunities for networking between professional and student members of AIAA, highlights emerging and exciting aerospace technologies, engages speakers from across government, academia and industry and engages AIAA members, both active and retired, in the local area.
In addition, AIAA NCS selected Wereley for their opening presentations on Emerging Aerospace Technologies at AIAA's inaugural Science and Technology Forum and Exposition (SciTech) in 2014.
Wereley joined the University of Maryland Alfred Gessow Rotorcraft Center in 1993 and currently serves there as the director of the Smart Structures Laboratory and the Composites Research Laboratory. His research interests are in dynamics and control of smart structures, with emphasis on active and passive vibration isolation and shock mitigation applied primarily to rotorcraft as well as other aerospace and automotive systems.
Through his research, Wereley has published two books, over 180 journal papers and 16 book chapters, received 18 patents and contributed to over 230 conference articles. He has been recognized with numerous awards for his work, including the 2013 International Society for Optics and Photonics (SPIE) Smart Structures and Materials Lifetime Achievement Award, the 2013 SPIE Smart Structures and Materials Product Implementation Award and the 2012 American Society of Mechanical Engineers (ASME) Adaptive Structures and Material Systems Prize.
Published July 9, 2015