Weinstein Named Langley Aerospace Research Student Scholar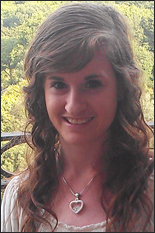 Department of Aerospace Engineering student Rose Weinstein has been selected as a Langley Aerospace Research Student Scholar (LARSS). The LARSS Program is one of NASA's most prestigious and successful student research programs and has been ranked among the top ten best internships in the nation. The highly competitive program also offers students the opportunity to work one on one with a recognized research mentor on cutting edge problems.
Weinstein is a rising junior Aerospace Engineering student and an ambassador for the Clark School of Engineering. During her sophomore year, she worked for Dr. Alison Flatau in the Aerosmart Flow Control Lab testing synthetic jet actuators as a method of active flow control and presented her research at the annual American Institute of Aeronautics and Astronautics (AIAA) Region 1 Student Paper Conference. This summer, Weinstein will participate in the NASA LARSS Program and pursue upcoming research on morphing unmanned aerial vehicles (UAVs) with Dr. James Hubbard. In her spare time, she enjoys flying Cessnas, shooting and watching football.
The LARSS Program bridges the gap between academic concepts and real-world experience by creating opportunities for students to conduct research and work on projects under the mentorship of NASA professionals at NASA Langley Research Center (LaRC).
For more information on the LARSS Program, visit their website.
Published May 22, 2014