Hubbard Shares Life Story with STEM Students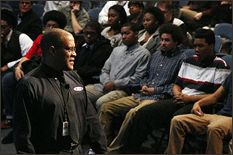 Aerospace Engineering Samuel P. Langley Distinguished Professor James Hubbard Jr. shared his life story with 9th-grade Engineering Explorations students from the Heritage High School Governor's STEM Academy during a Profiles in STEM lecture at NASA Langley's Reid Center.
Hubbard discussed the challenges he experienced during his life, from his segregated hometown in Virginia to the tough Philadelphia and Baltimore neighborhoods he lived in as a youth. Hubbard shared his story of perseverance through the segregation of his youth, the turbulence of the sixties, and the detours and difficulties that led to MIT and a successful career in both industry and academe.
"The students were totally engaged and many employees remarked to me that Dr. Hubbard had made a lasting impression on them," said Equal Opportunity Director of the NASA Langley Research Center Janet Sellars.
Before attending MIT, Hubbard served in the Merchant Marine, where he earned his Marine Engineers License, and completed two years in physics at Morgan State College.
Earning both his M.A. and Ph.D. from MIT, Hubbard went on to teach there for a while before going into private industry. Hubbard came to the University of Maryland in 2004 and currently serves as the Director for the Center of Adaptive Aerospace Vehicle Technology at the National Institute of Aerospace (NIA) where he works with engineers and students to build a research program in smart, adaptive aerospace vehicles.
During his talk, Hubbard engaged students with hands-on interactive demonstrations of projects he and his graduate students are currently working on and hosted the students with a lunch and learn session where they could ask in depth questions.
In 2013, Hubbard was selected for inclusion in HistoryMakers' archive of oral histories. HistoryMakers houses the nation's largest collection of African American video oral history and records the stories and achievements of African American life, history and culture to educate and archive the diversity of American history.
Read the complete story on NASA's website.
Published March 19, 2014