The Clark School Celebrates Women's History Month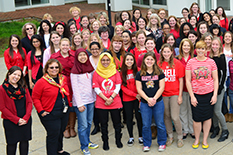 Generations of women have contributed to engineering, and the women faculty of the A. James Clark School of Engineering at the University of Maryland are proud to be part of that tradition. In honor of Women's History Month, the Clark School is celebrating our female engineering faculty members throughout March.
Follow along on Facebook and Twitter and join the conversation!
Are you among the next generation of women engineers who will help shape our future?
First year engineering students with an interest in promoting gender diversity in the field are invited to join Flexus, the Dr. Marilyn Berman Pollans Women in Engineering (WIE) Living & Learning Community! Students accepted into the Clark School for Fall 2018 are eligible to apply.
Flexus provides a supportive community to be successful in engineering at the Clark School. There are two components of Flexus: one is residential, and one is academic.
Residential: Flexus students live in Easton Hall, in the Denton Community, on North Campus. Living in this community helps you connect with peers in engineering while creating a setting conducive to study groups, networking, peer tutoring, and a variety of social activities.
Academic: Flexus students register for a 1-credit seminar each semester focused on topics such as professional, career, and personal development, as well as important technical and leadership skills needed to succeed in engineering. Members of Flexus also enjoy the perk of having their very own Student Assistance Center, conveniently located in their building.
Space is limited! Learn more about Flexus and apply to join the Flexus community by Monday, April 16, 2018.
Published March 1, 2018