Celebrating Women in Aerospace Engineering: Elizabeth Ward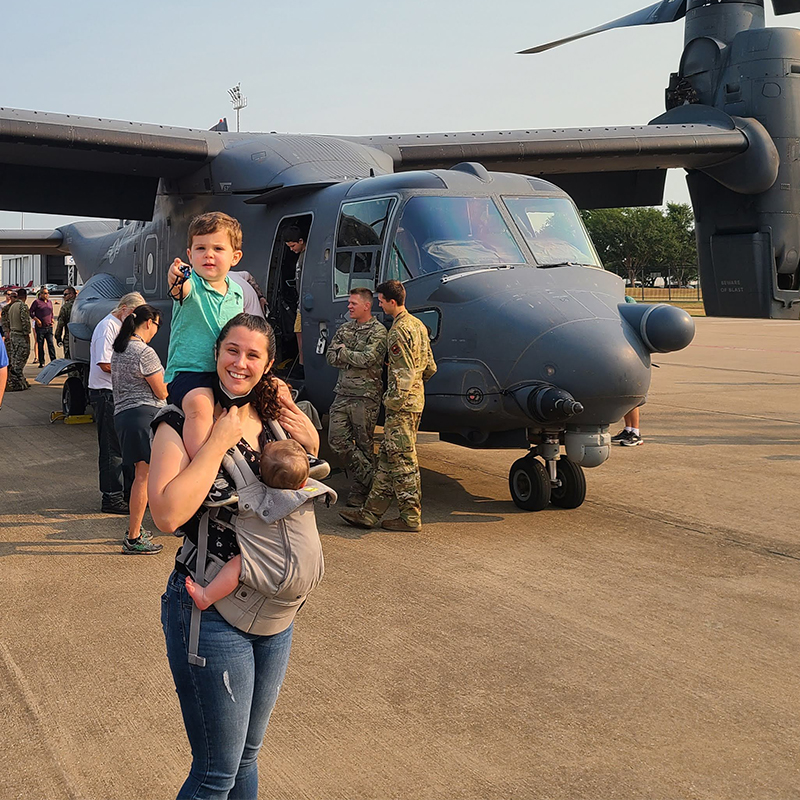 In celebration of Women's History Month, the Department of Aerospace Engineering is highlighting some of our talented and diverse alumni and faculty through a series of stories sharing their journeys and their advice for aspiring aerospace engineers.
Alumna Elizabeth Ward (B.S. '11, M.S. '14, Ph.D. '17) is an aerodynamicist working for the V-22 Test and Technology Group at Bell. In her time there she has been the co-lead aerodynamicist of the V-22 program. She most recently has become president of the Vertical Flight Society Southwest Chapter and is an AIAA structural dynamics technical committee member.
Prior to her time at Bell, Ward was a graduate researcher under her advisors, Drs. Inderjit Chopra and Anubhav Datta. While pursuing her Ph.D. research, which focused on the aeromechanical behavior of twist-morphing slowed RPM rotors, she was involved extensively in the Gamera human-powered helicopter project. In addition, she was team lead of the winning 2013 Student Design Team competition, served as Vertical Flight Society Federal City Student Chapter president, and was an inaugural member of Women in Aeronautics and Astronautics (WIAA) at UMD.
Ward currently lives in Arlington, Texas with her husband, 2 (almost 3) children, and her dogs and cats. In her free time (when she has any!) she enjoys baking and going on adventures with her family and friends.
Where/how did you get started on your aerospace engineering journey?
I wish I had the "I always wanted to fly" kind of story to tell, but my aerospace journey actually started at the University of Maryland during my freshman year. I knew I was interested in engineering in general and figured I would give Aero a try. I remember being introduced to different kinds of aircraft and seeing a picture of the V-22 (Osprey) for the first time ever and thinking, "that is the coolest piece of engineering I have ever seen. I want to know more about that!" Ever since, my focus has always been on large scale rotorcraft and I was lucky enough that my first job post-school was on the V-22 program at Bell. It was meant to be!
Who/what inspires you?
The thought that drives my day to day is: what am I doing, or what can I do to help people? I like to frame the idea of my work with the understanding that some of the things I do are going to save someone's life. I am also most inspired by my peers. To be able to learn and grow with and from them is such a rewarding experience.
Don't let a failure stop you in your tracks. Learn from your mistakes, practice, and grow.
What has helped you to succeed in your Aero journey?
The thing that has helped me the most in my journey is the support from my partner and my mentors to push myself into things that might have made me uncomfortable. My husband has been my biggest supporter and cheerleader from day 1, encouraging me to try new things, explore my options, and take chances.
What advice would you offer to current students?
Don't let a failure stop you in your tracks. Learn from your mistakes, practice, and grow. Things don't always come easy and you can often learn more about yourself and your strengths by working through adversity.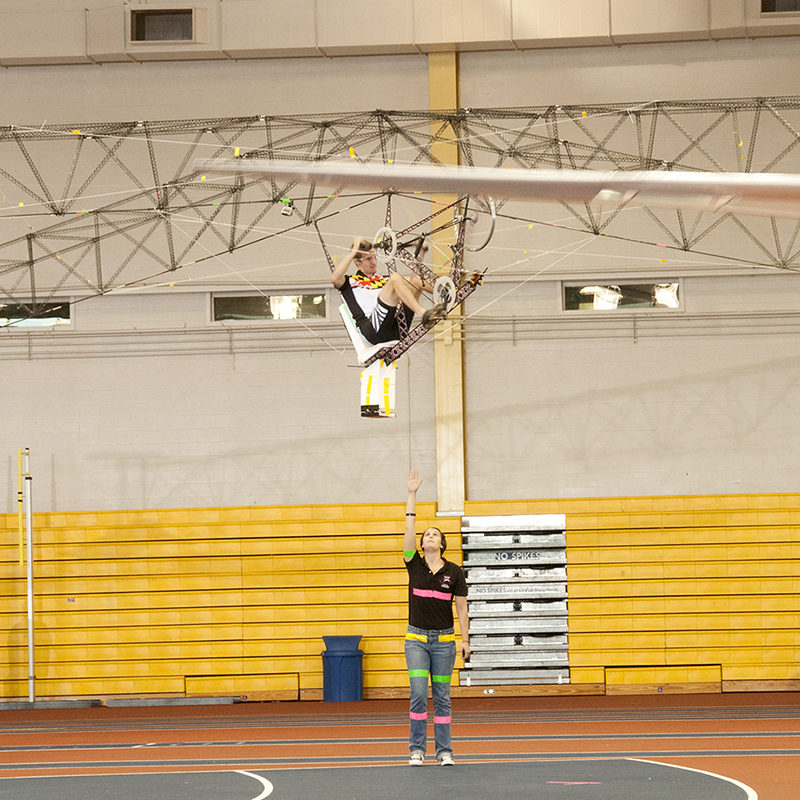 Take advantage of the opportunities presented to you! Go to that networking event, check out different professional societies, apply for that scholarship! I know it is cliche, but you miss 100% of the opportunities you don't take.
Be your own biggest advocate. This is one that I still am working on myself every single day. It is okay to toot your own horn, to nominate yourself. More often than not, things aren't going to happen if you just sit back and wait for someone else to notice.
What have been some of your greatest personal or professional successes?
My work as one of the team leads of the Gamera Human Powered Helicopter Project and my 15 minutes of fame as "the human ruler" (measuring the altitude reached by the helicopter during testing). I'm also proud of getting my Ph.D,m and of my beautiful children.
Published March 15, 2022