Celebrating Women in Aerospace Engineering: Kim Westbrook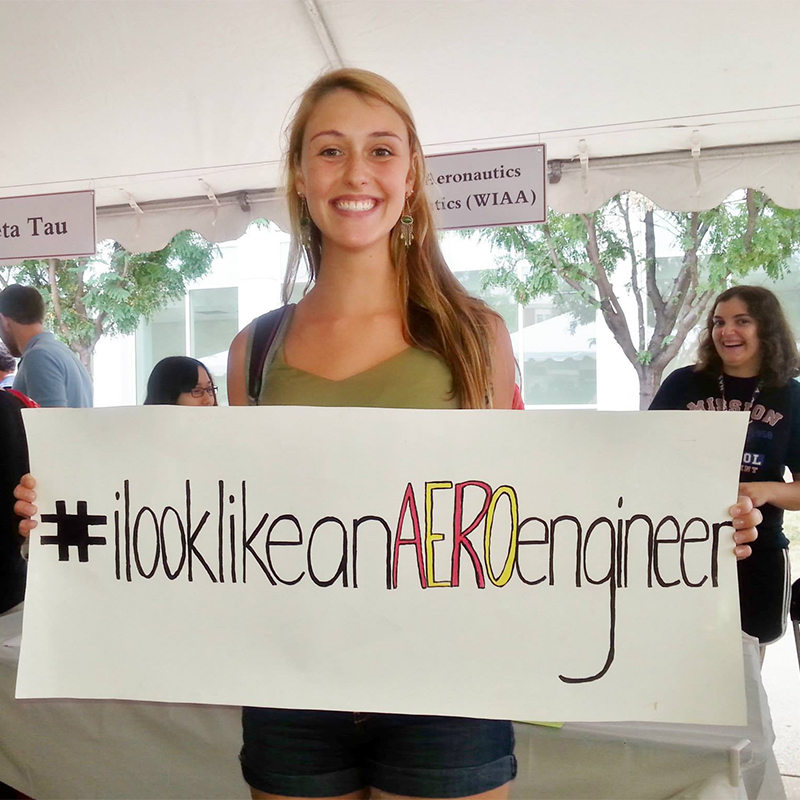 In celebration of Women's History Month, the Department of Aerospace Engineering is highlighting some of our talented and diverse alumni and faculty through a series of stories sharing their journeys and their advice for aspiring aerospace engineers.
A visit to her fourth-grade class inspired Kim Westbrook (B.S. 2017) to dream of a career related to space. Today, as a spacecraft mechanical engineer on NASA's Europa Clipper mission at the Johns Hopkins Applied Physics Laboratory, she is helping to design a spacecraft that will investigate whether Jupiter's moon Europa could support life. Prior to her work on this mission, Westbrook contributed to mechanical design and analysis of the Parker Solar Probe, which launched in the summer of 2018.
During her time at UMD, Westbrook served as the president and outreach chair of Women in Aeronautics and Astronautics (WIAA). She led the first WIAA Day in 2016. She also served as president of the Terrapin Rockets group. As an undergraduate Kim worked on magnetostrictive material applications under Dr. Alison Flatau as well as haptic control devices for the Orion spacecraft at NASA's Johnson Space Center.
Westbrook is now pursuing a master's degree from Johns Hopkins University and a private pilot's license in her spare time. She also enjoys making art, fishing, and spending time out on the Chesapeake Bay with her fiancé and their two dogs.
Where/how did you get started on your Aerospace Engineering journey?
When I was in the fourth grade, a woman from NASA Goddard brought a space suit to my class. I've known ever since then that I wanted to be involved with space exploration. I gravitated towards aerospace engineering because I loved the idea of actually designing and building technology that would reach the unknown corners of the universe.
Who/what inspires you?
Work hard to figure out what kind of work you're actually interested in and pursue it.
I work on civil space missions, and the missions themselves are what inspire me the most. All of the long, challenging, and exhausting days are worth it to me because I believe so wholeheartedly that the spacecraft I'm working on will have a positive impact on humanity.
What has helped you succeed in your Aero journey?
Having outstanding mentors and advocates has been critical to my success in this industry. There are so many people who have believed in me and my capabilities even when I didn't believe in myself. I wouldn't be where I am without their help!
What advice would you offer to current students?
Your degree will open so many different doors to you, and it's up to you to decide which you want to go through and which you don't. Work hard to figure out what kind of work you're actually interested in and pursue it.
What have been some of your greatest personal or professional successes?
The first day I suited up and worked in a clean room on a spacecraft (the Parker Solar Probe) was really a dream come true for me. I felt that being in there was the result of a lot of hard work and a lot of luck. Now I suit up and go into the clean room to work on the Europa Clipper spacecraft almost every day, but it hasn't lost its magic!
Published March 17, 2022