Dr. Flatau Among Women in Aerospace 2010 Award Recipients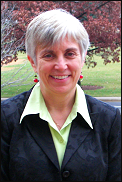 Women in Aerospace recently announced the winners of its 25th Annual Women in Aerospace Awards. For 2010, WIA honored eight outstanding women for their contributions to the aerospace industry and to the advancement of women in the field.
Professor Alison Flatau, Associate Dean and Professor, University of Maryland, College Park, Maryland, was named the recipient of the Aerospace Educator Award, "for her exceptional leadership and dedication to aerospace education and for her unwavering commitment to the advancement of women in the Aerospace Engineering field."
Dr. Flatau and seven other award recipients will be honored at a reception and dinner to be held on Tuesday, October 26, 2010 in Arlington, Virginia.
More information on the 2010 WIA awards are available here.
Published September 28, 2010