Aero Researcher Recognized by AIAA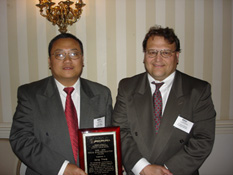 After a review of several excellent candidates for the award, Dr. Wang was selected as the winner of the AIAA National Capital Section Young Engineer/Scientist Award for 2006. His impressive professional achievements indicated to the selection committee that Dr. Wang will surely continue to contribute to the community and to the AIAA in his very promising career. He was nominated by aerospace professor Dr. Norman Wereley.
"Of all the things the AIAA does to promote the fields of aeronautics and astronautics," stated Jonathan T. Malay, chair of the AIAA National Capital Section, "recognition of professionals who are at the early end of their careers and promotion of education in the fields of technology and science are the most important and rewarding. We are greatly appreciative to Professor Wereley for his nomination."
Dr. Wang was presented with this award at the annual AIAA NCS Honors & Awards Banquet on June 14th at the Army Navy Country Club in Arlington, VA. The guest of honor and speaker was VADM Conrad C. Lautenbacher, USN (Ret.), Ph.D., the NOAA Administrator. The citation received by Dr. Wang read: For exceptional contributions to research program management, and for technical leadership in the theory, mathematics, and practice in spectral finite element methodologies applied to helicopter rotor blades and thin plate mechanics.
Dr. Wang graduated from the Clark School with his Master of Science in 1998, and his Ph.D. in 2001, both in aerospace engineering. He is currently an assistant research scientist in the aerospace engineering department.
Published June 15, 2006