Graduate Students Win NASA Contest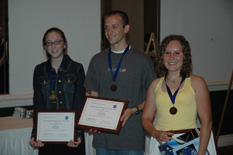 Two Clark School aerospace engineering teams participated in NASA's
RASC-AL (Revolutionary Aerospace Systems Concept - Academic Linkage) Forum 2006
held in Cape Canaveral, Florida, May 21–25, 2006. This year's theme was "Space Exploration – The Next Steps." The university design projects addressed the utilization of NASA's exploration architecture to perform potential future space missions.
The Clark School team of Agnieszka Koscielniak, Liz Benson, and Richard Sickenberger was awarded first place in the graduate division, beating six other teams: four entries from the Georgia Institute of Technology and one entry each from Carnegie-Mellon University and the University of Alabama-Huntsville. The Clark School team presented its design for a low-cost human spacecraft based on its term project in last fall's ENAE 788D class. As part of the prize, they will receive a paid trip to present their paper and design at the International Astronautical Federation meeting in Valencia, Spain this October.
The members of the Clark School undergraduate team--Avi Chandra, Ashley Korzun, Meg Meehan, and Kevin Schoonover, representing the 36 students of ENAE 484-- presented that class's project on modifying the International Space Station to create a rotating space station for partial-gravity biological studies. Although the Clark School team was among four schools very tightly grouped at the top of 14 undergraduate entries, the team was not awarded either of the two undergraduate prizes.
Aerospace engineering Professor Dave Akin, the Clark School's RASC-AL faculty advisor and Director of the Space Systems Laboratory stated, "Both teams did a really great job. I received a lot of compliments from NASA and industry people, and from the faculty advisors of other teams, for their innovation, technical competence, and professional presentation skills."
The RASC-AL Forum provides an opportunity for student design teams to present research design projects to peers, representatives from NASA and industry.
Published June 19, 2006