UAS Test Site Hosts International Justice System Workshop Participants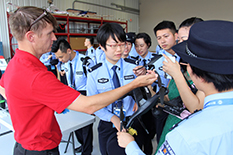 Zhejiang Police College trainees travelled to southern Maryland last week to learn about safe, responsible unmanned aircraft systems (UAS) procedures and applications from the experts at the UAS Test Site.
The visit was part of the UMD-ZPC International Summer Workshops, a four-week event led by the University of Maryland Office of International and Executive Programs (OIEP). Workshop lectures and site visits introduce participants to the U.S. criminal justice system and discuss the use of statistics in criminology.
At the test site, 26 police college trainees saw a demonstration of the university's UAS capabilities and heard from Director Matt Scassero about the importance of developing uniform UAS policies and procedures for the international community.
"The airspace above us runs continuously around the world, and the challenges we face utilizing that airspace are the same," said Scassero. "It is critical for us to approach these issues together and share our successes."
The participants will return to the eastern Chinese province of Zhejiang in August, where they will share what they learned with police college leadership.
And here in Maryland, officials at the test site and OIEP hope to identify additional opportunities to collaborate.
"We hope that this site visit will form the basis of long-term and mutually beneficial cooperation between OIEP and the UAS Test Site," said Mike Dravis, OIEP planning and communications manager.
Published July 31, 2017