Spooner Wins 2015 Winston Family Best Honors Thesis Award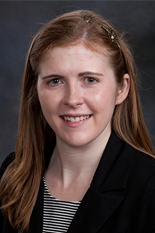 Aerospace Engineering senior Hannah Spooner won the Best Honors Thesis Award as part of the 2015 Winston Family Best Honors Student Paper Awards. In addition, Spooner's mentor, Assistant Professor Anya Jones, will be recognized with a Faculty Mentor Award.
Spooner's project, "Methods of Quantifying Leading Edge Vortex Burst on Rotating Wings," used qualitative flow visualization and quantitative Particle Image Velocimetry (PIV) techniques to examine the leading edge vortex structure that forms on flapping wings. Working in Jones' Low Reynolds Number Aerodynamics Lab, Spooner developed a statistical and mechanical method that could be used as a potential tool to find when and where this vortex may burst.
Spooner also had the opportunity to work with aerospace engineering graduate students Gino Perrota, Field Manar and Peter Mancini and postdoc Albert Medina. She credits them for helping her brainstorm through some of the research questions she encountered during her project.
"I'd really just like to say how valuable experiences outside of the classroom—like research—were for me," Spooner said. "Engineering problems in class are so different from solving real world problems: being able to approach both types of problems is an indispensable skill. It gave me the chance to interact with others on a level that goes beyond what's necessary just to complete a homework assignment or study for a test."
After graduation this spring, Spooner will work for Cessna Aircraft Company as an airframe engineer in conceptual design.
Spooner added, "It's great that I had the opportunity to do this [project] and that people supported me along the way."
The Winston Family Honors Best Student Paper Awards were established in honor of founding Director of the Maryland University Honors Program, Dr. John Portz. The three awards given recognize the best essay, research paper and thesis written by a University of Maryland Honors student. Students and faculty awardees are recognized during the special Honors Luncheon held Friday, April 24, 2015.
Published April 21, 2015