Relive Totality With Clark School Images, Videos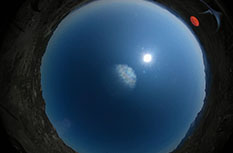 Skywatchers who couldn't make it to the path of totality—or simply want to remember the event—can experience the total solar eclipse through videos and photos taken by Clark School of Engineering faculty, staff, and students.
The Unmanned Aircraft System (UAS) Test Site recorded 360-degree video from altitudes as high as 400 feet in Casper, Wyoming and Charleston, South Carolina. Project Engineer Jacob Moschler also collected data on wind conditions during the event, which will be shared with University of Maryland meteorologists to support investigations into how wind velocity and other phenomenon are impacted by eclipses.
Photos and videos are available on the test site's YouTube and Flickr pages.
Images capturing the scene as roughly 25 students sent an 8-foot helium-filled balloon approximately 104,000 feet above Williamston, South Carolina are also available on the Department of Aerospace EngineeringFacebook page. Led by visiting professor Mary Bowden, the operation collected data for a handful of experiments, including ones to measure the radiation change during the eclipse and the impact of that on cell cultures.
Published August 22, 2017