Snow, Wind, and Drone Ops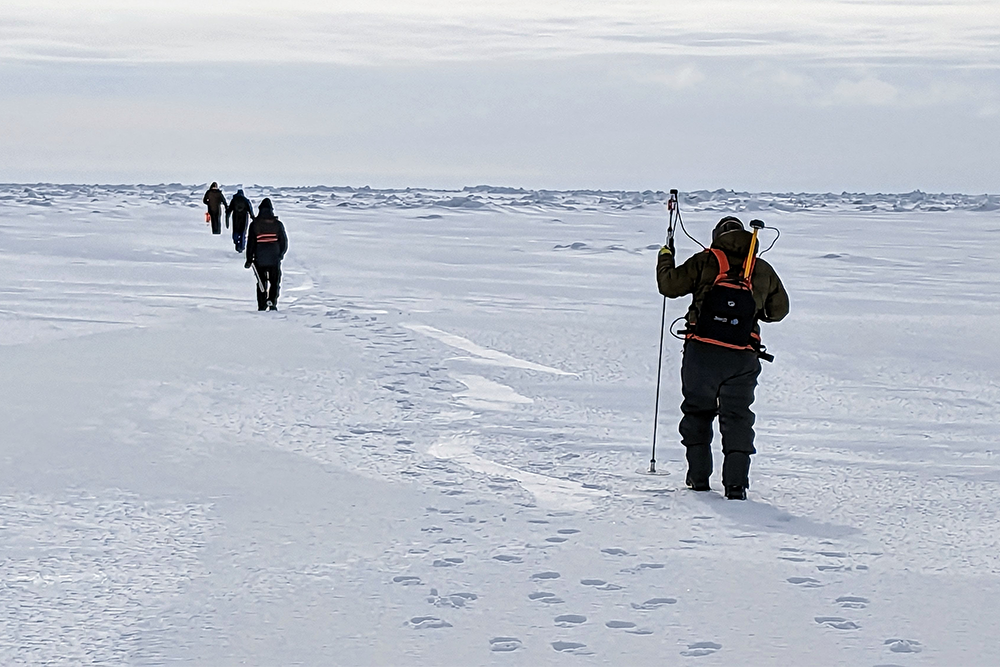 The subarctic climate of Nome, Alaska, makes it a great place for sledding, but a challenging one for drone flight. Uncrewed aerial systems are sensitive to extremes of heat and cold, with damage to sensors and electronics possible if precautions are not taken.
Freezing temperatures, ear-biting winds, and predatory wildlife can make things tough for the humans flying the drones as well.
Handling such challenges was job number one for a University of Maryland UAS Research and Operations Center (UROC) team that traveled to the storied Alaskan gold-mining hub as part of an ongoing collaboration with NOAA and the tech firm GeoThinkTank, which has been pioneering a drone-based approach to the calibration of satellites used in sea ice monitoring.
UROC Project Engineer Josh Gaus and Test Engineer Grant Williams made the trip north in March, joining up with NOAA and GeoThinkTank colleagues to carry out the demanding mission.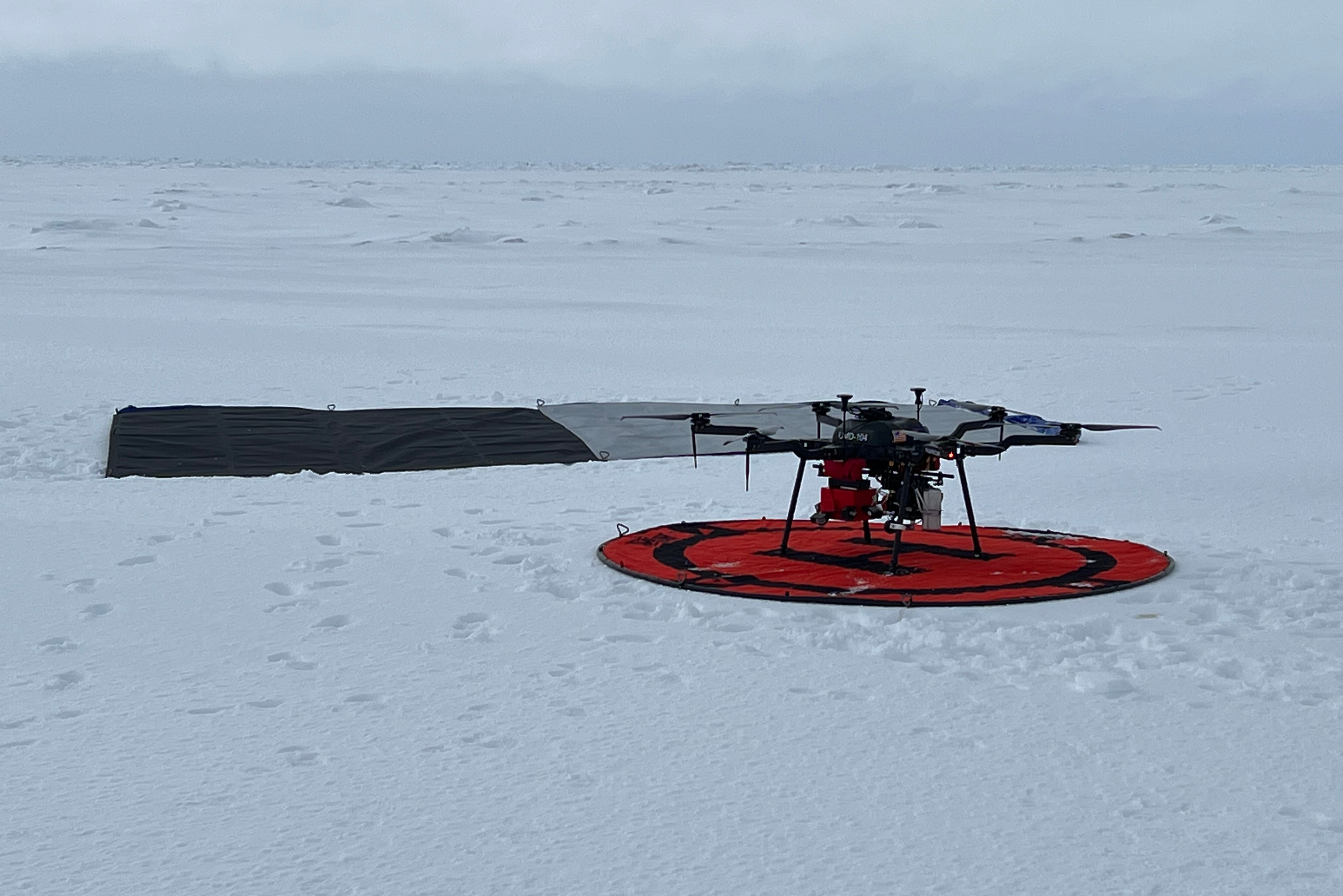 Data from satellites is used both for climate modeling and weather forecasting. To ensure accuracy, the satellite cameras must be calibrated properly, and the data must be validated–traditionally, by sending teams out onto ice packs to take measurements that can then be compared with the satellite data.
NOAA and GeoThinkTank are hoping the validation process could someday be carried out using drones, while UROC has been carrying out the tests needed to show whether the approach is feasible.
As Williams explains, "validation can be accomplished by ice researchers trekking on foot across miles of potentially dangerous sea ice, drilling holes, and taking measurements.
"It was a rewarding mission both because of the important data we were able to collect and also because it pushed our capabilities to the limit."
We set out to prove a theory that would make NOAA satellite ice data calibration and validation safer, easier, and more efficient. Our goal was to fly a custom sensor suite collecting multispectral, thermal, high-res RGB, and environmental monitoring data over the area of a satellite imagery pixel to study how an uncrewed aerial vehicle (UAV) could perform a validation."
The team had previously carried out similar tests in the Great Lakes region. While they encountered wintry conditions there, Nome proved to be even harsher. Temperatures at the testing site ranged between -10 and 20 degrees Fahrenheit, with winds gusting from 15-30 knots amid constant scattered snowstorms. And weather wasn't the only problem. The team had to prepare and be on the lookout for dangerous animals such as bears and rabid arctic foxes, while ice breakaways threatened to leave them stranded, in an area without reliable cellular service. "Our crew was subjected to the same austere conditions as the drone we were flying," Williams said. "We had to ensure that our crew and our aircraft alike were equipped to withstand those conditions."
Solutions for safeguarding the crew included bringing an abundance of provisions, as well as first aid and other necessities—"it's important to bring more than you think you'll need, since you can't always predict what's in store," Williams said. At the ground station, a tent made of see-through plastic material was heated with a propane space heater, keeping the pilot and equipment warm. The team utilized several visual observers to watch for low-flying aircraft and wildlife in the area.
Drone operations at the site reflected months of prior preparation. The team began by selecting the right aircraft for the job—a Harris Aerial H6 gas-hybrid multirotor, equipped with an EFI generator that could keep it in the air for hours at a time. Instead of carting around dozens of batteries that would need to be swapped out every fifteen minutes or so, all the team required for energy was a single, 5 gallon tank of gasoline.
To mitigate the effects of cold weather on the sensors and other delicate system components, the team devised an insulation system that featured custom 3D-printed as well as sewn compartments that were heated with exothermic reaction packs.
The measures taken by the team paid off, yielding four days of successful flights and gathering a wealth of data that NOAA can now use to evaluate the potential of a drone-based calibration and validation system.
"It was a rewarding mission both because of the important data we were able to collect and also because it pushed our capabilities to the limit," Williams said. "All UAS operations require preparations and a plan, and this is even more the case when you're operating in an unfamiliar and unforgiving environment."
"Success depended on our fundamental operational expertise, safety and risk management, and strong work ethic," Williams said.
Published May 12, 2023