UMD Teams Place 1st at AHS International's 34th Annual Student Design Competition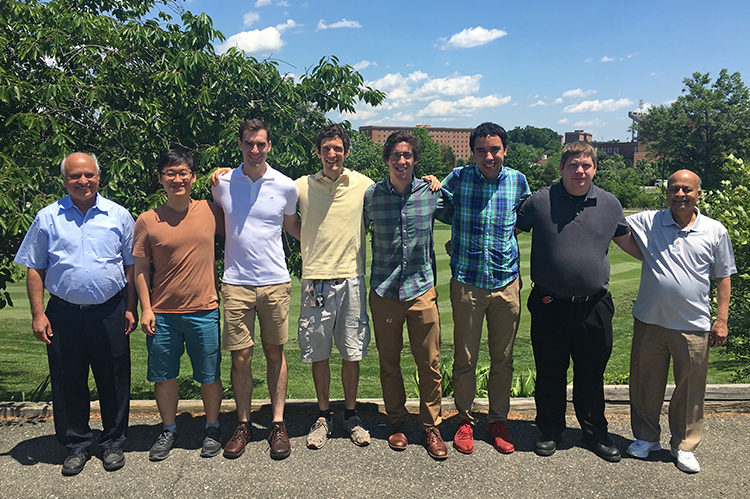 Earlier this month, two University of Maryland teams won top spots in the American Helicopter Society (AHS) International's 34th Annual Student Design Competition.
This year's competition—sponsored by Sikorsky Aircraft Corporation, a Lockheed Martin Company—challenged each student team to design an original vertical lift aircraft that could hover for 24 hours over three stations, each 1 km apart, carrying a human-sized payload of 80 kg, or 176.4 lb. The designs had to be complete with a 100 page proposal including details such as budgets, timelines, and post-mission plans for waste.
Making an impression, UMD took first place in both the graduate and undergraduate divisions, beating out teams from across the globe including schools from India, Germany, Canada, and Puerto Rico.
While each placing team receives a cash stipend, only the first place winners are invited to attend AHS International's 74th annual Forum and Technology Display in Phoenix, Ariz., in May 2018, where they will present their designs.
Elysium
The graduate team's design submission Elysium is a hybrid-electric twin-rotor helicopter with hover capabilities. Winning for its innovative application of existing technology, Elysium was recognized by the judges for its potential to transform rotorcraft systems with unmatched hover efficiency and endurance at a lower weight and maintenance time.
Going above and beyond, the UMD graduates also won the optional "Best Hardware Validation" part of the competition, in which they were tasked to design, build, and successfully test existing technology in novel applications implemented in their helicopter.
The team used air-cooled and liquid-cooled motors and tested them for sustainability. Team lead Daniel Escobar, a master's student in aerospace engineering, stressed the importance of having motors that do not overheat, as their design would have to go an entire 24 hours without maintenance, while regular helicopters are checked every 4–5 hours.
In their 100 page report, the team went into great technical depth, even including a weather report to determine how many days in a year their design could perform under average weather conditions.
"We tried to be as comprehensive as possible, doing the work to cover all the bases—and I think that's what gave us the edge," says Escobar.
Though the preparation for the competition was rigorous and the hours long, the effort was well worth the successful product and the learning opportunity.
"When you work with a group who actually cares about the end product and cares to put in the hours," adds Escobar, "it's worth it."
"It was a pleasure to work with a group of highly creative and motivated members to design a new configuration that has sufficient novel features and satisfies the customer's requirements," said V.T. Nagaraj, senior research scientist, who mentored the Elysium team alongside Bharath Govindarajan, assistant research professor, and Inderjit Chopra, Distinguished University Professor and director of the Alfred Gessow Rotorcraft Center, in addition to advising the undergraduate team.
Chezoía
Chezoía, the first-ever UMD undergraduate submission, competed against 11 other entries—a record high for the undergraduate category. With a notable 18-rotor platform and an innovative, lightweight airframe constructed of micro-trusses, Chezoía is capable of hovering for more than 24 continuous hours.
A combination of two Greek words—"chelóna" meaning "turtle" and "makrozoía" meaning "longevity"—the design name Chezoía is a testament to both UMD Terrapin pride and the capability of the design.
With only four members, the undergraduate team had just enough people to enter the competition. But fewer members meant more responsibility for each student. There was also a learning curve to overcome. As undergraduates, they had little knowledge of rotorcraft theory and devoted their entire fall semester to learning vertical flight technology before beginning their design.
"I can't emphasize enough how much I've learned in the past year," said team lead Andrew Desrochers, member in charge of the design's control and avionics system and major in aerospace engineering. "The experience of having faculty and graduate students who had previously done the competition was extremely helpful."
As a small team of senior-year students, some of whom had dual majors, time management and good collaboration were key as they managed responsibilities for the competition on top of their heavier workloads.
"It's important to learn what you don't know and figure out how to approach different challenges," explains Andrew Dallas, who was responsible for configurations and aerodynamics, also an aerospace engineering major. "Also, figuring out where individual strengths lie is so important in a competition so that we can work together as a stronger team."
Published August 28, 2017