Leishman publishes new book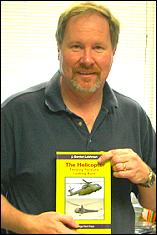 Dr. J. Gordon Leishman, Minta Martin Professor of the Department of Aerospace Engineering, publishes a new book "The Helicopter Thinking Forward, Looking Back". This book takes an invigorating look at rotorcraft technology - where it stands today, where it might still go, and how we can get there.
Dr. Leishman is a former aerodynamicist at Westland Helicopters. He has written extensively on topics in helicopter aerodynamics and helicopter technology. He is also the author of the book Principles of Helicopter Aerodynamics.
For further information please view
Published May 4, 2007