Emergency Text Alerts - Now available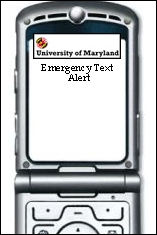 You can now receive emergency text alerts on text enable devices such as cell phones, pagers, BlackBerries, Treos and via e-mail.
UMD Alert is an alert system that allows the University of Maryland to contact you during an emergency by sending text messages to your:
* E-mail (work, home, etc.)
* Cell phone
* Pager
* BlackBerry/Treo
When an emergency occurs, authorized senders will instantly notify you using UMD Alert. UMD Alert is your personal connection to real-time updates, instructions on where to go, what to do, or what not to do, who to contact and other important information.
University Human Resources will send messages to registered devices in the event of an emergency. The system is free to students, faculty, staff and visitors. You can sign up on your cell phone by text messaging 411911 with the message UMD or on the web at www.alert.umd.edu. Sign up now.
Note: Login and password are different from other University of Maryland systems.
Published May 2, 2007