Mayo receives 2008 Aerospace Corporation Graduate Fellowship Award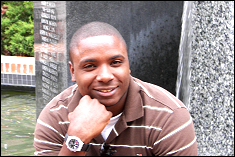 David B. Mayo (PhD Student) is the second recipient of the Aerospace Corporation Graduate Fellowship Award. Aerospace Corporation donated funds to the college of engineering and the department to recognize graduate students who either were sons/daughters of veterans or actual veterans themselves. The award includes a check of $2,500.
David B. Mayo is originally from Tuskegee, Alabama and completed his B.S. in mechanical engineering with an aerospace concentration from Virginia Military Institute in May, 2006. He earned his aerospace M.S.E. from the University of Alabama in Huntsville in May 2008.
Mayo has served in the United States Marine Corps and completed two combat tours of duty in Iraq as a member of 4th Combat Engineer Battalion. He has participated in internships with the Navy Research Lab researching ship fire safety and survivability, and the Army Research Lab (Redstone Arsenal) researching missile propellant sensitivity and projectile aerodynamics. Currently, he is a 1st year PhD student in the Department of Aerospace Engineering at the University of Maryland working as a research assistant under Dr. J. Gordon Leishman. His research focuses on the aerodynamics, flight dynamics, and controls of flapping wing micro aerial vehicles. In his free time, David enjoys riding motorcycles, volunteering and playing jazz trumpet.
Published September 5, 2008