Johnson Earns First Place in Research Competition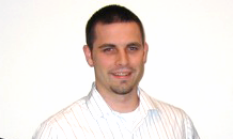 Dean Darryl Pines announced the top two winners in the 2009 Dean's Master's Student Research Award Competition. First place went to Bradley Johnson, Aerospace Engineering. The winners, along with the titles of their research and their advisors' names, are listed below:
First Place:
Bradley Johnson, Aerospace Engineering,
Advisor: Professor J. Gordon Leishman
"Mechanisms of Sediment Entrainment and Transport in Rotorcraft Brownout"
Prize: $1,500
Second Place:
Dean Berlin, Bio-engineering
Advisor: Professor Gary Rubloff:
"Enzyme Inhibition in Microfluidics for Re-engineering Bacterial Synthesis Pathways"
Prize: $1,000
Johnson and Berlin, as well as their respective advisors, were praised by Dean Pines for their outstanding research. Pines stated, "Their accomplishments are a testament to the level of scholarship produced by Clark School students and faculty."
Published May 18, 2009