Jones Named AIAA Associate Fellow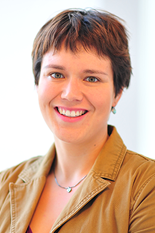 The American Institute of Aeronautics and Astronautics named Aerospace Engineering Assistant Professor Anya Jones an Associate Fellow. AIAA Associate Fellows are individuals who have accomplished or been in charge of important engineering or scientific work, or have done original work of outstanding merit, or have otherwise made outstanding contributions to the arts, sciences, or technology of aeronautics or astronautics.
Jones was recognized for her contributions to aerodynamic research and for her STEM and outreach activities. She has been very active in outreach, and serves on the board of ReSET, a non-profit volunteer organization that partners scientists and engineers with elementary school teachers to improve science motivation and literacy.
At Maryland, she runs the Jones Laboratory, an experimental aerodynamics laboratory that explores unsteady, separated and three-dimensional flows on flapping wings, rotorcraft and wind/water turbines.
Her research focuses on the area of unsteady aerodynamics, particularly examining the flow physics of transient and separated flows and associated aerodynamic forcing for applications to future generations of manned (MAV) and unmanned air vehicles (UAV). Research activities have included flow control, laminar separation bubbles, aircraft noise abatement, modeling and multidisciplinary design optimization and low Reynolds number flows, and for her MAV work, NATO recognized Jones with their Scientific Achievement Award.
Earlier this year, the AIAA National Capital Section also recognized Jones for her outstanding contributions to the science and engineering of biologically inspired flapping wing micro air vehicles and for her dedication to educating the next generation of aerodynamicists by naming her the 2015 Hal Andrews Young Engineer/Scientist of the Year.
Published September 3, 2015