Three UMD Alumni Among Aviation Week Network's 2021 20 Twenties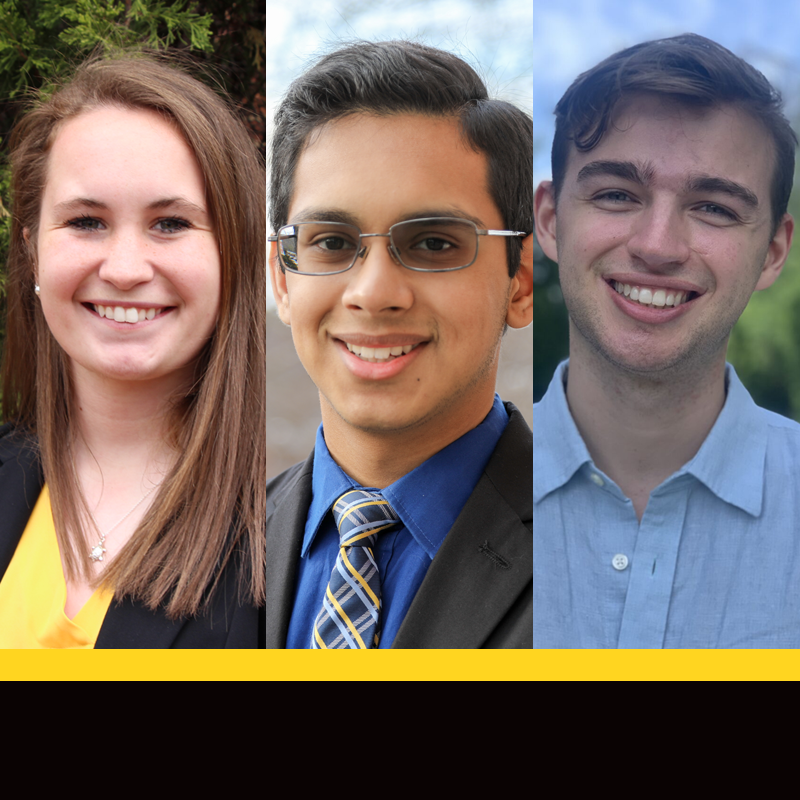 Three University of Maryland (UMD) Department of Aerospace Engineering alumni are among this year's Aviation Week Networks 20 Twenty awardees. Established by the Aviation Week Network in 2013, the 20 Twenties program recognizes talented individuals who are on course to change the face of the aerospace and defense industry.
Rachel Cueva ('21) is an incoming Aerospace Engineering Sciences doctoral student at the University of Colorado Boulder, where she will be joining the Orbital Research Cluster for Celestial Applications (ORCCA) lab within the Astrodynamics & Satellite Navigation Systems focus area. She is interested in using orbital dynamics to explore the intersection between aerospace engineering and planetary science, particularly with an application to small bodies.
During her time at Maryland, she was involved in the Gemstone Honors College, Aerospace Engineering Honors Program, Balloon Payload Program, and the UMD student branch of the American Institute of Aeronautics and Astronautics.
Niloy Gupta ('21) will be pursuing his Ph.D. in hypersonic aerodynamics this fall at the University of Michigan after graduating from Maryland this spring with bachelor's degrees in both aerospace engineering and mathematics.
During his undergraduate career, he participated in a variety of activities, which included being an officer for both Tau Beta Pi and Sigma Gamma Tau engineering honor societies. He also conducted research to accurately measure high-speed flow on a small scale and was a member of the ex-ABC research project, which was the first successful demonstration of attitude control for a fixed-pitch electric coaxial helicopter.
These students are the future of aerospace & defense, and their innovative work to solve challenges within our industry is both inspiring and commendable.
This past year, he was the Chief Engineer for UMD's 2021 Design Build Fly team, helping to lead his team to an 11th place finish, UMD's best finish to-date.
Justin Lidard ('20) is currently pursuing his aerospace engineering studies as a Ph.D. student at Princeton University. During his time at Maryland, he was advised by Dr. Derek Paley and funded by an ASPIRE Scholarship, which he used to pursue research in the Collective Dynamics and Control Lab where he developed a control model that allowed bio-inspired micro-air vehicles to fly more efficiently in extreme environments. In addition to academic research, he served as an Academic Match group leader and teaching fellow and participated in Mtech's ASPIRE Program (A Scholars Program for Industry-Oriented Research in Engineering).
Through the annual 20 Twenties program, the Aviation Week Network recognizes talented, young, rising stars within the aerospace industry. Top students working to solve aerospace challenges are nominated by universities around the world, and a judging panel comprised of hiring managers, engineers and academics select 20 exceptional winners.
"These students are the future of aerospace & defense, and their innovative work to solve challenges within our industry is both inspiring and commendable," said Greg Hamilton, President of Aviation Week Network in a recent press release. "We look forward to celebrating their talents in October, and further supporting their professional growth with industry intelligence and research, events, career connections, free student subscriptions, and an online community."
The 2021 awardees will be honored during Aviation Week Network's 64th Annual Laureate Awards and Dinner held October 18 at the Ritz-Carlton, Tysons Corner in McLean, VA, in conjunction with the 2021 DefenseChain Conference.
Published July 27, 2021