Jones Named AIAA National Capital Section's Hal Andrew Young Engineer of the Year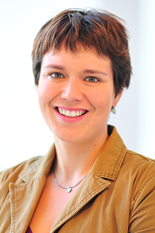 The American Institute of Aeronautics and Astronautics (AIAA) National Capital Section named Assistant Professor Anya Jones the 2015 Hal Andrews Young Engineer/Scientist of the Year. The National Capital Section chose Jones for her outstanding contributions to the science and engineering of biologically inspired flapping wing micro air vehicles and for her dedication to educating the next generation of aerodynamicists.
The AIAA National Capital Section awards the Hal Andrew Award annually in recognition of a local member who is early in their career and has had a single significant professional accomplishment or longer-term outstanding career leadership/accomplishment in the technical disciplines of aeronautics and astronautics.
Jones received her Ph.D. in experimental aerodynamics from the University of Cambridge, United Kingdom, her S.M. in aeronautics and astronautics from MIT and her B.S. in aeronautical and mechanical engineering from Rensselaer Polytechnic Institute. Her research focuses on experimental fluid dynamics including unsteady low Reynolds number aerodynamics, vortex dynamics and flow control with applications to MAVs, flapping wings and wind/water turbines.
Jones will be recognized during the AIAA-NCS Honors and Awards Banquet to be held Wednesday, May 20, 2015.
Published May 8, 2015