Gamera Team Recognized by Helicopter Society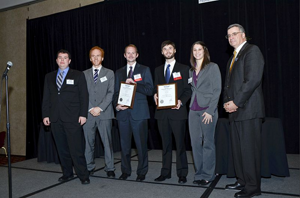 The Gamera human-powered helicopter team recently received the Igor I. Sikorsky International Trophy from American Helicopter Society International for designing and building a new, record-setting helicopter.
In addition, the team was named a finalist for this year's Collier Trophy, presented by the National Aeronautic Association. The 2012 Collier Trophy was awarded to Boeing for its 787 aircraft.
The Gamera team was certified by the Fédération Aéronautique Internationale earlier this year for setting world records in flight duration for a human-powered helicopter. The team won the American Helicopter Museum and Education Center's Annual Achievement Award and the MTech Innovation Award.
The Gamera team is working on Gamera II, a lighter, more efficient version of the previous vehicle. They plan to test the vehicle this summer.
Published March 28, 2012