Clark School Wins Helicopter Design Competition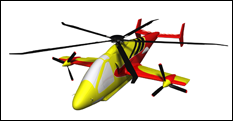 Clark School aerospace engineering graduate students have won the American Helicopter Society (AHS) Student Design Competition for the 11th time in 14 competitions with Dart T690/E550, a lift and thrust compounded vertical take-off and landing aircraft.
The team members were:
Mathieu Amiraux
Jonathan Elliot
Joseph Schmaus
Conor William Stahlhut
Will Staruk
Anish Sydney
Nitin Sydney
AHS and sponsor Sikorsky Aircraft Corporation challenged students to design a purpose built helicopter to race on a prescribed pylon course. One of the main challenges faced by the rotorcraft industry is the unprecedented maneuverability required to complete such a course.
The AHS Student Design Competition, which challenges students to design a vertical lift aircraft that meets specified requirements, provides a practical exercise for engineering students at accredited colleges and universities around the world. The competition promotes student interest in vertical flight technology. Each of the first- and second-place winning teams is awarded a cash stipend and two members of the first-place winning teams are invited to the AHS Annual Forum and Technology Display to present the details of their proposal. Members of the teams receive complimentary registration to the forum, the vertical flight industry's principal professional technical event, promoting vertical flight technology advancement.
The Clark School's win in the AHS competition is the latest success in the area of rotorcrafts this year. The Gamera human-powered helicopter team flew Gamera II successfully in June, setting a new official flight duration record of 49.9 seconds—a 400 percent improvement over their own 2011 world record of 11.4 seconds. The flight has been certified by the National Aeronautic Association and has been forwarded to the Fédération Aéronautique Internationale for approval as a world record. Just this week, the team test-flew their craft in the Comcast Center using a tether and stayed aloft for more than 70 seconds. If they can reach that number in their final session at the end of the month, untethered, they will surpass the 60-second duration requirement of the famed American Helicopter Society Sikorsky Prize. This weekend, the team will present an exhibit at the Udvar-Hazy Center in Chantilly, Va. as part of the Smithsonian Super Science Saturdays series. The team is advised by VT Nagaraj and Prof. Inderjit Chopra.
Clark School undergraduate and graduate students were selected for six of the 19 prestigious Vertical Flight Foundation Scholarships awarded by the American Helicopter Society in 2012, besting Georgia Tech, University of Michigan, Penn State, University of Texas at Austin and Stanford in the award count.
Published August 9, 2012