Gamera Human-Powered Helicopter Team's 97-Second Flight Record Certified by NAA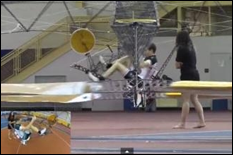 Students from the University of Maryland's A. James Clark School of Engineering Team Gamera have been awarded the official U.S. record of 97 seconds for the duration of a human-powered helicopter flight. The record-setting flight was officially approved by National Aeronautic Association (NAA) on January 27, 2014.
NAA officials were on hand to witness the record-setting flight that was achieved on Wednesday, September 25, 2013 at the Prince George's County Sports and Learning Complex in Hyattsville, MD. Recently recruited pilot and competitive cyclist Justin Mauch, powered the helicopter through its 97-second flight.
While the September test flights marked a closing chapter for Gamera since Canadian team AeroVelo secured the Sikorsky Prize in June of 2013, this flight surpasses AeroVelo's currently submitted duration record of 86 seconds.
Gamera's 97-second time has also been submitted to the Fédération Aéronautique Internationale for certification as a world record.
Since August of 2008, the Gamera Team has been engaged in an ongoing effort to advance innovation in human powered helicopter flight. The team has included more than 100 undergraduate and graduate students from the University of Maryland's A. James Clark School of Engineering. The students, along with their faculty advisors Inderjit Chopra and V.T. Nagaraj, have collectively invested thousands of hours into the project, as the group continued to reach new landmark achievements over the past five years.
Official Records*
National Aeronautics Association (NAA) U.S. National Record
1 min 37 seconds, September 25, 2013, Pilot Justin Mauch
National Aeronautics Association (NAA) U.S. National Record
38 seconds, September 25, 2013, Pilot Kay Tsui
Fédération Aéronautique Internationale (FAI) Certified World Record
1 min 5.1 seconds, August 28, 2012, Pilot Colin Gore
National Aeronautics Association (NAA) Certified U.S. National Record
1 min 5.1 seconds, August 28, 2012, Pilot Colin Gore
Fédération Aéronautique Internationale (FAI) Certified World Record
49.9 seconds, June 21, 2012, Pilot Kyle Gluesenkamp
National Aeronautics Association (NAA) Certified U.S. National Record
49.9 seconds, June 21, 2012, Pilot Kyle Gluesenkamp
Fédération Aéronautique Internationale (FAI) Certified World Record
11.4 seconds, July 13, 2011, Pilot Judy Wexler
National Aeronautics Association (NAA) Certified U.S. National Record
11.4 seconds, July 13, 2011, Pilot Judy Wexler
Fédération Aéronautique Internationale (FAI) Certified World Record
4.2 seconds, May 12, 2011, Pilot Judy Wexler
National Aeronautics Association (NAA) Certified U.S. National Record
4.2 seconds, May 12, 2011, Pilot Judy Wexler
Pending Certification
Fédération Aéronautique Internationale (FAI) World Record
1 min 37 seconds, September 25, 2013, Pilot Justin Mauch
*All records were set for Class I-E (Human Powered Rotorcraft) for Duration
Published January 30, 2014