From Classroom to Competition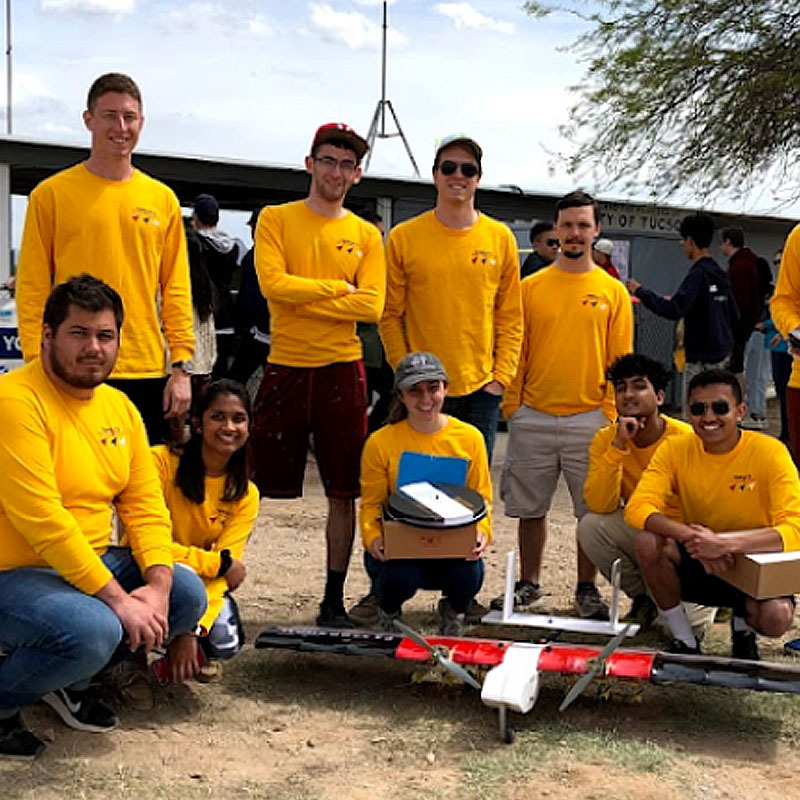 Since 2012, the University of Maryland (UMD) has participated in the American Institute of Aeronautics and Astronautics' (AIAA) annual Design, Build, Fly (DBF) Competition. DBF challenges student teams to design, fabricate and demonstrate the flight capabilities of an unmanned, electric powered, radio-controlled (RC) aircraft which can best meet the specified mission profile.
The UMD competition team, mentored by Professor Sung Lee, has historically been comprised of students in the Department of Aerospace Engineering's senior capstone design course, but this year they are working to expand opportunities in DBF to students beyond the class.
"We really want to build a pipeline of students in the team, especially students interested in being pilots," explained Marvellous Achugbu, aerospace engineering senior and current project team lead. "We've found it is really an important role and UMD-DBF always loves it when their pilot is involved in the design and building process of the aircraft."
Beyond establishing a pilot pool, Achugbu also wants to build the team's overall knowledge base.
Each year, the design requirements change for AIAA DBF's challenge, but the competition still allows for the application of teams' previously developed technology, which makes ensuring longevity in student participation critical to improving the team's capabilities for future competitions.
This is a new priority for the team this year, and they are actively working to recruit more freshmen, sophomores and juniors with a strong interest and willingness to learn about RC aircrafts while developing competition skills and working with the team through their time at UMD.
Numerous opportunities exist for students on the team to take on a number of different roles, from project team leaders and chief engineers to treasurer, and more.
"DBF activities can be broken down into three parts which include the Design phase, the Build (Manufacture) phase, and the Fly phase," added Achugbu. "Each of these phases needs a lead and within each of these phases there are five sub-teams that students can participate in!"
Each of the sub-teams must be coordinated to make sure they are all in sync.
"This year, we would be using more of composite materials to manufacture the aircraft as the industries are exploiting more of the use of composite materials due to its stiffness to weight ratio," Achugbu explains about this season's strategies. "As we know, weight is a big concern when it comes to anything that flies."
Started in 1996 by the AIAA Applied Aerodynamics, Aircraft Design, Design Engineering and Flight Test Technical Committees, Design Build, Fly Competition is an opportunity for university students to apply real-world aircraft design experience by giving them the opportunity to validate their analytic studies.
Interested in learning how you can join UMD's Design, Build, Fly team?
Contact the team at dbfumd@gmail.com or stop by and see them during the ClarkLEAD student event on Sunday, September 28 (registration required).
Published August 23, 2022