Aerospace Undergraduate Program Rises in Rankings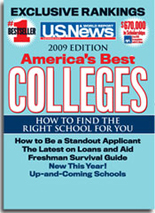 For the 2008-09 academic year, the undergraduate aerospace engineering program has been ranked 9th in the U.S. News and World Report. The program was ranked among all undergraduate aerospace/ aeronautical/ astronautical engineering programs at schools whose highest degree is a doctorate.
This year's rankings show a positive movement of one spot from last year's ranking at 10th. The department had stayed consistent at tenth for several years prior. This year's list of top 10 aerospace programs is divergent from past years as there are no programs jointly ranked or tied with another program. The Clark School of Engineering was ranked 21st in the nation in undergraduate engineering education, up four from 2007-08; the University of Maryland was ranked 53rd among all U.S. institutions this year.
The U.S. News rankings of undergraduate programs accredited by the Accreditation Board for Engineering and Technology (ABET) are based solely on the judgments of deans and senior faculty who rated each program they are familiar with on a scale from 1 (marginal) to 5 (distinguished). Engineering school deans and faculty members (two at each engineering program) were surveyed in spring 2008.
Published August 22, 2008