Students place number one in helicopter design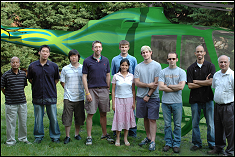 A group of students from the Aerospace Engineering Department supervised by Professor Inderjit Chopra and Dr. VT Nagaraj were successful in placing first in the 25th Annual American Helicopter's Design Competition. Other participants included Georgia Tech and the Naval Postgraduate School.
The objective of the competition was to design an advanced VTOL concept capable of operating from unprepared area and which minimizes energy consumption throughout the operational envelope. This "SMART-COPTER" must be capable of vertical takeoff and landing (VTOL) and will have an initial operational capability (IOC) in 2020.
The Maryland team submitted a design concept in response to a request for designing a revolutionary and energy efficient future Helicopter. Attached is a photo of all team members and their advisors a long with their revolutionary Green Energy Efficient Design.
Students who participated
Brandon Bush
Choong Yun Lee
Jeong Hwan Sa
Cal Sargeant
Rick Sickenberger
Monica Syal
Evan Ulrich
Nick Wilson
Every year since 1984, a student helicopter design competition has been co-sponsored by the American Helicopter Society, International, and the rotorcraft industry. Students from the University of Maryland commenced participation in 1988, placing third. They remained absent from the competition for 10 years, until 1998, when Andy Bernhard and a group of other graduate students of the Alfred Gessow Rotorcraft Center revived interest in it. Since then, Maryland teams have participated every year, winning first place eight times in a row, over universities such as the Georgia Institute of Technology, the U.S. Naval Postgraduate School, and the U.S Air Force Institute of Technology. The students develop the design during the course of a one-semester class in Helicopter Design (ENAE 634) offered by the Department of Aerospace Engineering in the Spring of each year. The class is co-taught by Professor Inderjit Chopra, Senior Research Scientist Vengalattore Nagaraj, and Visiting Professor Marat Tishchenko.
Published August 21, 2008