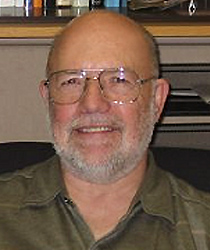 Barlow, Jewel
Director of Glenn L. Martin Wind Tunnel
Associate Professor Emeritus

Aerospace Engineering

2102 Martin Wind Tunnel

EDUCATION
B.S., Auburn University Engineering (Physics)
M.S., Auburn University (Aerospace Engineering)
Ph.D., University of Toronto (Aerospace Engineering)
PROFESSIONAL MEMBERSHIPS
Member of SAE Road Vehicle Aerodynamics Committee
Research in applied aerodynamics, experimental aerodynamics, flight mechanics and control, and the vehicle design process.
Books
Low Speed Wind Tunnel Testing, 3rd Edition, John Wiley & Sons, Inc., 1999
Journal Articles
Barlow, J.B., Guterres, R., and Ranzenbach, R., "Experimental Parametric Study of Rectangular Bodies with Radiused Edges in ground effect", Journal of Wind Engineering and Industrial Aerodynamics, Volume 89, Dec. 2001, pp. 1291-1309.
Conference Proceedings
Ro, K., and Barlow, J. B., "Dynamic Modeling of Articulated Wing-Body-Tail Aerial Vehicles", AIAA-2005-1024, 43rd AIAA Aerospace Sciences Meeting and Exhibit, Reno, NV, Jan 2005
Bryant, E., Owens, D., and Barlow, J.B., "Free-to-Roll Investigation of Uncommanded Lateral Motions for an Aircraft with Vented Strakes", AIAA 2005-239, 43rd AIAA Aerospace Sciences Meeting and Exhibit, Reno, NV, Jan 2005
Cook, S., and Barlow, J., "Investigation of Flow Topology and Aerodynamic Bifurcation for Aircraft with Vented Strakes", AIAA-2004-2154, 34th AIAA Fluid Dynamics Conference and Exhibit, Portland, OR June 2004
Cook, S. and Barlow, J., "An Investigation of Low-Speed Lateral Characteristics of a Simplified F/A-18E Configuration", AIAA paper 2003-931, 41st Aerospace Sciences Meeting, Reno, NV, Jan. 2003.
Cook, S. and Barlow, J., "Investigation of Critical States of the F/A-18E in Power Approach Configuration Using Mini-Tuft Flow Visualization", AIAA-2001-4145, AIAA Atmospheric Flight Mechanics Conference, August 6-9, 2001, Montreal, Quebec, Canada.
Ranzenbach, R., Barlow, J., and Esmaili, H., "Practical Application of the Two-Variable Blockage Correction Method to Automobile Shapes", SAE paper 2001-01-0632 in Vehicle Aerodynamics Design and Technology, SAE SP-1600, SAE 2001 World Congress, Detroit, MI, March 2001.
Barlow, J.B., Guterres, R.G., and Ranzenbach, R.R., "Parametric Study of Wake Structures and Forces of Rectangular Bodies with Radiused Edges Near a Plane Surface", SAE 2000-01-0490 in SP-1524, SAE Congress, Detroit, MI, February, 2000
Barlow, J., Guterres, R., and Ranzenbach, R., "Experimental Parametric Study of Rectangular Bodies with Radiused Edges in Ground Effect", in proceedings of 4th International Colloquium on Bluff Body Aerodynamics and Applications, Ruhr Universistat Bochum, Germany, September 11-14, 2000.
Barlow, J., Guterres, R., and Ranzenbach, R., "Rectangular Bodies with Radiused Edges in Ground Effects", AIAA paper 00-4014, in proceedings of 18th AIAA Applied Aerodynamics Conference, Denver, CO, August 14-17, 2000.
Cook, S. and Barlow, J., "Investigation of Effects of Leading Edge Extension Vents on the Lateral Characteristics of the F/A 18-E/F in Power Approach Configuration", AIAA-2000-4510, in proceedings of 18th AIAA Applied Aerodynamics Conference, Denver, CO, August 14-17, 2000.
Barlow, J.B., Guterres, RG., and Williams, J., 'Wake Structures of Rectangular Bodies with Radiused Edges Near a Plane Surface", SAE paper 1999-01-0648 in SAE SP-1441, SAE Congress, Detroit, MI, February, 1999
Williams, J., Barlow, J.B., and Ranzenbach, R, "Experimental Study of Cd Variation with Vehicle Aspect Ratio", SAE paper 1999-01-0649 in SAE SP-1441, SAE Congress, Detroit, MI, February, 1999