University of Maryland Wind Tunnel Media Day, July 8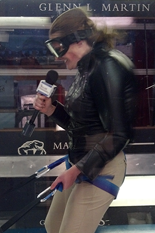 WHAT: With the arrival of hurricane season, the University of Maryland is offering reporters the chance to experience hurricane-force winds firsthand at the Glenn L. Martin Wind Tunnel Media Day on Friday, July 8, on the College Park campus. Members of the media will have the opportunity to stand in the wind tunnel and face Category 3 winds -- up to 115 mph!
University of Maryland faculty and scientists will be on hand to answer questions about disaster resilience, weather, wind and the wind tunnel. For example, researchers from the university's Center for Disaster Resilience will shed light on why many communities – including those in the D.C. metropolitan area – need to ramp up resilience measures in preparation for summer storms.
The NOAA 2016 hurricane season outlook release noted that, while this year's hurricane season is projected to be near-normal, there is forecast uncertainty in the climate signals that influence the formation of Atlantic storms.
The university provides members of the media exclusive access to the wind tunnel just once a year.
Media must book an appointment (up to one hour's time) by calling or emailing Jennifer Rooks (jfrooks@umd.edu, 301-405-1458) or Lee Tune (ltune@umd.edu, 301-405-4679). This may be your only chance to get into the wind tunnel before another Atlantic hurricane season.
The Glenn L. Martin Wind Tunnel, a part of the University of Maryland's A. James Clark School of Engineering, is one of the busiest wind tunnels in the country and is booked months in advance for research activity.
WHO: University of Maryland Center for Disaster Resilience experts Dr. Sandra Knight (CDR Director and former FEMA Deputy Associate Administrator of Mitigation) and Dr. Gerry Galloway (CDR Associate, UMD Glenn L. Martin Institute Professor of Engineering); and Dr. Jewel Barlow (Glenn L. Martin Wind Tunnel Director and Associate Professor of Aerospace Engineering).
WHEN: Friday, July 8 from 9 a.m. to 5 p.m. by appointment only.
HOW: To book a time slot, contact Jennifer Rooks (jfrooks@umd.edu, 301-405-1458) or Lee Tune (ltune@umd.edu, 301-405-4679, or at the main office number, 301-405-4621).
FOR ATTENDEES: Due to the potential wind velocities experienced in the tunnel, visitors are strongly advised to wear durable, rubber-soled shoes and snug, securely fastened clothing.
WHERE:
The Glenn L. Martin Wind Tunnel
Paint Branch Drive
University of Maryland, College Park, Md.
The Wind Tunnel building is located on Paint Branch Drive near the intersection of Campus Drive and Paint Branch Drive. Bldg. #081 on the University of Maryland campus map, http://www.transportation.umd.edu/parking/maps/map_campus.pdf.
Media should park in the metered Paint Branch Visitor Lot located directly across from the wind tunnel.
To learn more about the University of Maryland Glenn L. Martin Wind Tunnel, watch Blown Away: UMD Wind Tunnel Video or visit www.glmwt.umd.edu.
Published June 21, 2016