Reporters Experience UMD's Glenn L. Martin Wind Tunnel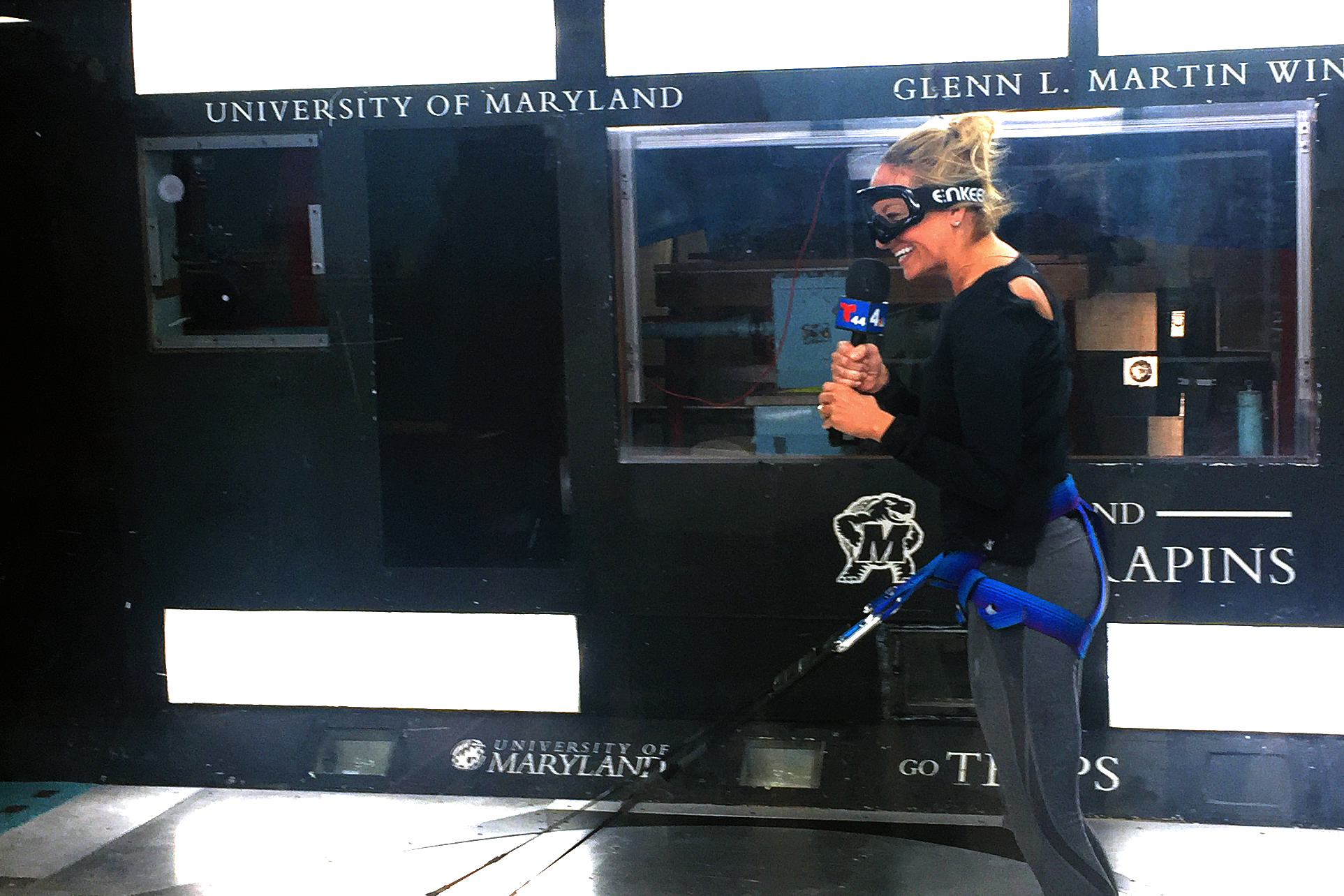 Reporters from major news outlets braved hurricane-force winds as they stood in the University of Maryland's Glenn L. Martin Wind Tunnel (GLMWT) on August 14, 2019. The occasion: the university's annual Wind Tunnel Media Day, which draws TV reporters from various national and regional networks to visit the facility, a state-of-the art low-speed wind tunnel that has been actively involved in aerodynamic research and development since 1949.
Experts from the A. James Clark School of Engineering were on hand to brief reporters about the Wind Tunnel, and also about the increasing threat posed by extreme weather events nationwide, including hurricanes. Jewel Barlow, director of the GLMWT, explained how the tunnel can be used in order to obtain the measurements needed in order to better protect infrastructure or equipment from intense winds. Gerald Galloway, an internationally prominent disaster resilience expert and co-author of a landmark study on urban flooding, discussed the uptick in extreme weather and its relationship to climate change.
Michelle Bensi, whose research interests include the probabilistic assessment of natural hazards, discussed the steps that individuals and organizations can take to prepare for weather-related disasters, mitigate their impact, and recover effectively.
Bensi and Galloway are both faculty affiliates of the Center for Disaster Resilience, an interdisciplinary team of researchers from across UMD that assists individuals, communities, and governments in understanding and reducing the catastrophic effects of natural hazards. 
More than 2,200 tests with over 300 distinct clients have been conducted at the GLMWT to date. With a speed range of 2 to 230 miles per hours (Mach Number 0 to 0.3), winds in the GLMWT are generated by a large 2250 HP turbine that features blades from B-29s. Over the last 30 years, GLMWT has regularly been used to test automobile aerodynamics, including almost all of the Ford Motor Company's scale-model tests. In addition, it has hosted tests for planes—from ultralights to jet fighters to commercial airliners—and other airborne vehicles and devices, including helicopters, missiles, and parachutes. It has also seen its share of more unusual vehicles, including a hovercraft and the Pride of Maryland solar-powered car. 
ABC-7 Good Morning Washington
Stormwatch 7 Meteorologist Eileen Whelan
https://twitter.com/ABC7EileenW/status/1161949007960256517

Fox 45 News
UMD Wind Tunnel Offers a Real Hurricane Experience
https://foxbaltimore.com/news/local/umd-wind-tunnel-offers-a-real-hurricane-experience
WBAL-11
Inside Look at Damaging Hurricane Force Winds
https://www.wbaltv.com/article/look-at-damaging-hurricane-force-winds/28703918
WRC-4
Lauryn Ricketts Blown Away by ther power of a Hurricane
https://www.nbcwashington.com/weather/stories/Storm-Team4-Meteorologist-Lauryn-Ricketts-Blown-Away-by-the-Power-of-a-Hurricane_Washington-DC-543036812.html


Published August 23, 2019