WIA Recognizes Bowden with Aerospace Educator Award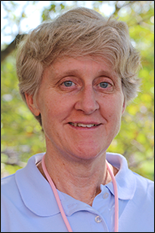 Women in Aerospace (WIA) has recognized Department of Aerospace Engineering Professor Mary Bowden with their 2016 Aerospace Educator Award. In an August 31 press release, WIA cited Bowden for her efforts in motivating interest in space systems, being an inspiring role model and promoting the success of students at all levels. The Aerospace Engineering Educator Award is one of six annual WIA awards that celebrate women's professional excellence in aerospace and recognition for female leaders who have made outstanding contributions to the aerospace community.
Bowden joined the University of Maryland (UMD) in 1996 as a part-time instructor, and quickly established herself as a champion of education and as an excellent researcher. She is affiliated with the Space Systems Lab and continues her research in space assembly, deployable structures and high altitude ballooning.
She teaches aerospace engineering classes on space systems and space structures, aerospace structures and Keystone classes. In addition, Bowden serves as one of the faculty mentors for the UMD American Institute of Aeronautics and Astronautics (AIAA) Student Chapter Senior Design Team, which has won first place two years in a row and had many top three finishes over past years at the RASC-AL (Revolutionary Aerospace Systems Concepts – Academic Linkage) Competition run by NASA.
Bowden won recognition as Mentor of the Year and Professor of the Year—twice!—from the UMD AIAA Student Chapter for her excellent teaching. She has also been recognized for her outstanding teaching by being named a Keystone Instructor, a program which recognizes educators who are among the best instructors in the Clark School of Engineering.
Bowden with students during the 50th Balloon Payload Launch, which took place October 10, 2015.
Bowden has also devoted herself to the Nearspace.net, a high-altitude balloon payload program funded by the Maryland Space Grant Consortium (MSGC), and has mentored students statewide to successfully complete over 50 balloon launches and flights since 2003. She has served on the MSGC Program Committee since 1998, and as a Principal Investigator since 2001 for the MSGC's UMD component. This program aims to provide students easy access to "near-space" through the use of weather balloons to lift small payloads to the edge of the atmosphere (85,000-100,000 ft. altitude).
Payloads experience space-like conditions in terms of pressure, temperature and radiation environment, while measurements are performed during ascent and descent (via parachute). Students are involved in every aspect of this space launch program from payload design and construction to vehicle launch and recovery and post-flight data analysis.
Every summer, Bowden runs a Balloon Payload Project, and every fall she engages 30 freshman aerospace engineering students in a Balloon Payload Project. Under her leadership, the UMD Balloon Payload Team established a new altitude record for Amateur Radio High Altitude Ballooning on July 10, 2009, by lofting a small radio payload to an altitude of 128,379 feet.
Bowden has inspired hundreds of college and high school students to undertake high altitude ballooning and is an inspiration to both students and colleagues alike for her selfless devotion to the aerospace engineering profession, and in particular, high altitude ballooning.
Recent graduate Gladys Palacio (B.S. '16), who is now working as a manufacturing engineer for The Boeing Company's Space Launch System, credited her success in part, to Bowden's mentorship.
"I will always be grateful of having a mentor within Dr. Bowden," Palacio said. "She helped me by listening to me and giving advice. Behind every successful person, there is a group of people that helped them get where they are."
Beyond UMD, Bowden has created custom programs for the National Federation of the Blind's (NFB) middle to high school student summer program, organized science-based merit badge projects for her daughter's Girl Scout Troop and most recently, was named an ambassador for the FAMES (Finance, Art and STEM) Program. FAMES is a non-profit organization dedicated to mentoring and educating disadvantaged youth in grades 4 through 12 in finance, arts and STEM subjects during after school and summer programs in the DC-metro area.
Bowden earned her Ph.D. at Massachusetts Institute of Technology, and her B.A. in Mathematics at Cornell University.
WIA is a leading professional organization dedicated to expanding women's opportunities for leadership, education and visibility in the aerospace community. This year's honorees will be recognized at the 31st Annual WIA Awards Dinner and Ceremony held Thursday, October 13, 2016 at the Ritz Carlton Pentagon City Hotel in Arlington, Va.
Published September 1, 2016